<!- mfunc feat_school ->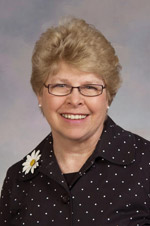 Sally Conklin, PhD, Program Coordinator & Professor at Northern Illinois University, joins us today to discuss public health education. Also joining us is Jennifer Thorndyke, NIU's, MPH Online Specialist.
#1 What do you think makes Northern Illinois University's MPH stand out from other online MPH programs?
Northern Illinois University's (NIU) College of Health and Human Sciences is committed to producing quality programs that help learners succeed in the healthcare industry.  We understand that prospective students have a lot of questions about furthering their education and careers, so we have a designated MPH Information Specialist on staff.  Jennifer Thorndyke is not only an information specialist; she is one of our recent graduates. She has first-hand knowledge about the program and courses and is available by phone, email, and webinars to assist students.
JT – One of the things I love about the MPH program is the amazing collaboration among faculty, staff, and students.  This approach assures a positive experience for students.
#2 Can you tell us about the online MPH programs offered at Northern Illinois University?

SC – Our online MPH includes the same quality courses as our traditional face-to-face degree program, but offers the flexibility to complete courses from your home at your own pace. Students need to complete 46 semester hours of graduate credit to complete the program.
24 semester hours of core courses
15 semester hours of specialization and elective courses
6 semester hours of public health internship (300 clock hours) and a comprehensive exam (1 semester hour)
In addition, one could add a 6 semester hour thesis option.  Some students seek the research experience to prepare themselves for pursuit of a Ph.D. or other doctoral level degree. Adding the thesis option is a good way to obtain this preparation.
JT – When I completed my MPH at NIU I chose the health services management specialization, but we also offer a specialization in health promotion.  Health services management is a multidisciplinary field that examines the use, costs, quality, accessibility, delivery, organization, financing, and outcomes of health care services.  Health promotion is a multi-faceted field that draws from the social and behavioral sciences.  Specialists in health promotion design, conduct, and evaluate programs to help people choose healthier lifestyles.
#3 How long does a typical online MPH program take at NIU? What is the maximum and minimum time of completion?

JT – NIU's online MPH is structured so that you can complete the degree in 18 months of class time. With this full-time schedule, you would take three classes per semester (including summer);  classes are staggered so that you would never take more than two classes at a time. And, students in the online MPH program always have the option of taking a traditionally delivered course at NIU's DeKalb campus.  Students choosing a part-time schedule can complete the degree in three years by taking two courses per semester (one during summer).  Students have a maximum of 6 years to complete the MPH.
<!- mfunc search_btn ->

<!- /mfunc search_btn ->
#4 How important would you say accreditation is when choosing an online MPH program?
SC – Other schools may promise convenience and low cost, but what about quality? NIU's program is fully accredited by the Council on Education for Public Health (CEPH) and has been since 1997.  This means our program meets the council's rigorous standards for educational excellence, provides essential skills, and promotes continuous improvement and accountability.  Additionally, an accredited program like NIU's MPH will give you a leg up in your career search. The accredited degree you will earn is trusted by health professionals, employers, and the federal government.
#5 There is some debate as to whether or not online MPH degrees are as worthwhile as traditional MPH degrees. What steps does Northern Illinois University take to ensure that online students are receiving the same education that they'd receive in a classroom?
SC – Each public health course was adapted for online delivery by our faculty members, who are all doctorally prepared with professional experience in public health.  They know how to foster student engagement in the classroom and online. Our students gain competencies that lead directly to advancement in health-related careers.  When you enroll in the Online MPH program, you'll earn the same quality degree as students in our traditional, on-campus program.
#6 What are the advantages to earning an MPH degree in general?

JT – According to the Bureau of Labor Statistics, healthcare and social assistance careers have the largest projected wage and salary employment growth in the next ten years.  Employment opportunities in public health are expected to increase and the demand for managers in health services is already high. A report of the American College of Health Care Executives predicts:
The health care share of the gross national product will increase to over 12%.
There will be a radical shift from hospital care to alternative care structures and operations.
Health maintenance organizations and preferred provider organizations will increase over the coming years.
There will be a continuing emphasis on management of health care to reduce the spiraling cost of care.
Advances in computer applications will be significant in the operations of health care agencies.
Emphasis will be on effective decision-making; organizations will need to establish data-gathering systems to report on quality and cost.
Public health professionals with quality degrees will be well-positioned to lead the way in shaping the future of healthcare.
#7 Does Northern Illinois University offer job placement for students who graduate in public health?
JT – NIU offers a centralized department within the Division of Student Affairs and Enrollment Management called Career Services. Career Services offers online posting for internships and jobs, both part-time and full-time, as well as: career counseling, résumé and cover letter preparation, practice interviews, and internship and job fairs.  They foster career development for all students and alumni by providing comprehensive services to educate and empower students to make lifelong diverse career choices through career exploration and job search skills training.
In addition to Career Services, the MPH program has a growing number of alumni employed in healthcare leadership positions throughout the region. NIU's program offers formal clinical experiences and informal networking opportunities with our alumni that can help students make strong career connections.
#8 What type of financial aid packages are available for students in public health? Are there any fellowships, grants and scholarships available?
SC – NIU has several strategies to help students finance this investment in their future.
Employers. Many employers have full or partial tuition reimbursement benefits that pay students back for some of the costs of education once grades are posted.
Installment Plans. Paying in installments helps budget the cost of education. NIU's Huskie Installment Plan (HIP) allows students to make several payments during the semester.
Veteran Benefits. Veterans can use their education benefits.  NIU has a dedicated Military Student Services office where students can connect with counselors and staff to find out how to maximize benefits.
#9 Do you have any advice for students enrolling in an online MPH program for the first time?
We think the online MPH is a great program for people who need to balance their education with work and family responsibilities. Online learning offers a more flexible schedule and saves on commuting because you can learn when and where you want. However, studies have shown that online learning works best for self-motivated students who are prepared for the mental and technical demands of the program. If students have not taken online classes before, they can go to www.niu.edu/niuonline and find helpful resources, such as readiness surveys and sample lesson plans, to make sure that online learning is right for them. The online MPH will be a great fit for many students. Others will prefer our traditional program at NIU's DeKalb Campus.
<!- mfunc search_btn ->

<!- /mfunc search_btn ->
#10 What do you enjoy most about your position at Northern Illinois University?

SC – As coordinator for public health programs, I have the enviable role of documenting faculty effectiveness as it translates into student achievement. I report these successes to our university assessment office and to our accrediting body in annual reports and periodic self-studies. I am also thrilled when our MPH students move directly from an exciting internship position to fulltime employment or acceptance into further graduate work. I have watched some of our graduates move forward on their career paths with truly extraordinary accomplishments.
JT – My favorite part about working at NIU is the interaction I get to have with students, faculty, and staff.  I love helping interested individuals navigate through the application process, make their way through the program, and move into rewarding careers.  As a student, I always felt encouraged and respected by the faculty. Now that they are my colleagues, I appreciate their professionalism and support. No matter where you are in your educational journey, NIU's faculty, staff, and students will help inspire you to meet that next goal, rise to the next challenge, and succeed in the next stage of your career.
For more information on the online MPH programs offered at Northern Illinois University, visit them online.
Thank you Sally and Jennifer, for sharing and participating in this piece.
That concludes our interview!
About Us: MPHProgramsList.com was created as a free resource for students interested in graduate public health, public administration, public policy and health administration programs. Our goal in creating this site was to attract students to these under-served yet highly rewarding fields. Popular sections include the Online MPH degree, Online MPA Programs, MHA Online Degrees, CEPH Accredited Online MPH Programs, MPH Career Options, and the MPH Experience.