<!- mfunc feat_school ->

Virginia has one of the richest histories in the nation thanks to the early settlements and sites that played a part in the country's founding.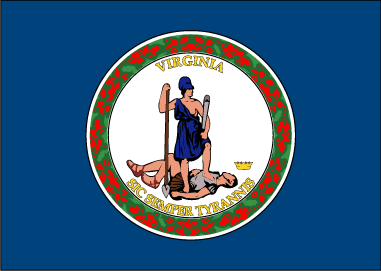 It's also home to some of the best schools in America, and for those interested in a career in public health there's no shortage of options.
MPH Schools, Colleges & Universities
Virginia Tech Masters Public Health Programs
Virginia Tech is one of the most well-known schools in the country thanks not only to its sports teams, but its excellent educational level. Situated in scenic Blacksburg, Virginia, more than thirty thousand full time students are enrolled here in more than two hundred different programs, including one hundred and fifty graduate level programs. It's ranked as the forty fourth best research university in the country, and graduates find employment all around the world.
Masters in Public Health
The Masters in Public Health program offered by Virginia Tech is offered through a partnership with Virginia Tech Carilion School of Medicine, and is a forty two hour course devoted to providing students with the skills they need to excel in the field of public health. The assessment, monitoring, study and implementation of public health policies and services are the focus and students will learn the skills needed to improve the health of the public at large through a number of different career options.
Contact Information
Address: 210 Burruss Hall Blacksburg, VA
Phone: 540-231-6000
Website: http://mph.vetmed.vt.edu/
<!- mfunc search_btn -> <!- /mfunc search_btn ->
Eastern Virginia Medical School Masters Public Health Programs
Eastern Virginia Medical School has been serving the southeastern Virginia region since 1973, and today it not only provides medical care to a wide range of those in need of it but also has one of the most respected medical education programs in the nation. Cancer, cardiovascular, diabetes, and infertility research is also conducted at length in the university, but its top priority remains providing students with a solid, accredited education.
Masters in Public Health
Those enrolling in a master's in public health degree program here will receive an education designed to prepare them for employment in government or private sectors and to give them the skills needed to bring about positive changes in the world of public health including monitoring the effectiveness of health care, the epidemiology of infectious diseases, and other public health concerns like pollution, underage pregnancy, and much more. It's a forty two credit hour course offered in conjunction with Old Dominion University.
Contact Information
Address: P.O. Box 1980, Norfolk, Virginia 23501-1980
Phone: 757-446-6120
Website: http://www.evms.edu/evms-school-of-health-professions/master-in-public-health.html
University of Virginia School of Medicine Masters Public Health Programs
The University of Virginia's School of Medicine is a highly respected institution. The University of Virginia itself was founded by Thomas Jefferson and today the school still works tirelessly to promote his vision of improving the world through education. The School of Medicine combines patient care, research, communication, community service, and education to deliver one of the best medical educations available in the country. Knowledge gained through research is directly applied to everyday classes in the school, ensuring that students learn the latest processes as soon as possible.
Masters in Public Health
There are two main options for earning a master's in public health here – Health Policy, Law, and Ethics or Research in Practice. Either of the two study tracks will give students a deep skillset to lead them forward in the medical field, and the public health program draws from the knowledge of every other branch of the University of Virginia to provide a comprehensive education unmatched anywhere else.
Contact Information
Address: PO Box 800793 Charlottesville, VA 22908
Phone: 434-924-5118
Website: http://www.medicine.virginia.edu/
MPH Scholarships and Fellowships
If you want to earn your master's degree in public health, you will want to know the best ways to pay for your education. The state of Virginia offers many intriguing scholarships and fellowships that can help to offset many of your graduate school costs.

<!- mfunc search_btn -> <!- /mfunc search_btn ->
Virginia Public Health Internships
For students who are interested in a public health career, you may need more public health experience to be admitted to graduate school. Or, you need to fulfill public health work requirements to graduate with your MPH. Either way, you are going to need an internship to realize your career dreams. Some of the best Virginia internships in public health include the following opportunities.
MPH Degree Salary in Virginia
Given its proximity to the nation's capital, the state of Virginia generally is an excellent choice for people interested in a public health or health care-related career. The salaries of professionals in Northern Virginia in particular are well above the national average. The average salary for public health workers here is $62,000. Public health directors here, often working at the county level, can make as much as $84,000.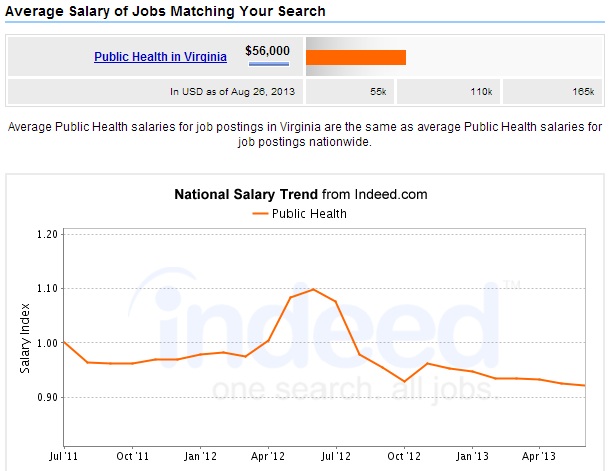 Related MPH Jobs in Virginia
If you take a close look at the salary averages for different public health jobs in Virginia, you can see that this is a most rewarding career near the nation's capital. Public health directors here, often working at the county level, can make as much as $84,000. And many public safety officers in this area can earn as much as $71,000, usually working for the county or state government.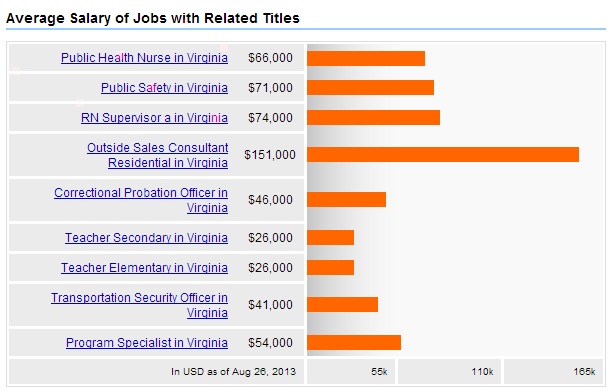 Virginia Career Opportunities for MPH Grads
A public health career in Virginia can be particularly rewarding, given how close much of the state is to Washington, DC. Many public health professionals, whether they are interested in behavioral health, biostatistics or nursing, will find ample opportunities in the state of Virginia. Job growth is especially robust in Northern Virginia in the health care field.
As a whole, job growth in public health in the US is booming, with many fields, such as epidemiology, seeing robust growth rates of 24% by 2020.
Some of the most dynamic places for public health workers to be employed in this state include:
Virginia Public Health Research Centers
Virginia is one of the growing centers of health care and public health in the US, and is home to many public health research institutions, such as: