<!- mfunc feat_school ->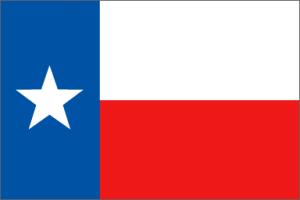 They say everything's bigger in Texas, and that certainly applies to your options when you're looking to earn your Master's in Public Health. A number of different schools offer masters programs, many of them a part of the major education system in the state. Finding the best schools to earn your degree from will ensure that you get the highest level of education and the most respected degree.
Here's what we've researched about Public Health student education in Texas.
MPH Schools, Colleges & Universities
University of Texas Austin School of Public Health Masters Public Health Programs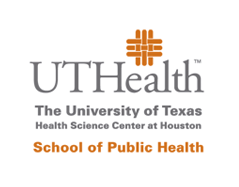 The Austin branch of the University of Texas was created in 2007 and now serves thousands of students looking to enter the medical field. The School of Public Health is fully accredited and nationally recognized as one of the best in the country. The main three focuses of the staff here are Public Health Policy, Chronic Disease Prevention, and Child and Adolescent Behavior and Epidemiology. In addition to standard degrees, there are also dual degree programs offered that could be of interest to some students. Regardless of your final decision, choosing to enroll here will give you a solid education that can carry you far.
Masters of Public Health
The Masters of Public Health program offered here is available online and on campus, creating a combination of convenience and quality that others schools can't match. The basic course covers all five core principles of public health, and as mentioned above students can choose to gain a dual degree that combines Public Health with other subjects like Social Work, Public Affairs, or Global Policy Studies.
YouTube Public Health Feature
Take a look at the student experience at The UT School of Public Health.
Contact Information
Address: 1 University Station Austin, Texas 78712
Phone: 512-475-7348
Website: https://sph.uth.edu/campuses/austin/
University of North Texas Health Science Center Masters Public Health Programs

The UNT School of Public Health was founded in 1999 and is one of only a handful of fully accredited public health schools in the country. Dual degree programs are offered through a unique partnership with other Texas medical colleges, and students receive degrees that are highly respected across the globe, making it a perfect choice for anyone serious about their medical career.

Masters of Public Health
With an estimated shortage of public health professionals expected to occur within the next few years, the Masters of Public Health program offered by the University of North Texas Health Science Center's Public Health College offers a chance for students to master all of the needed skills to monitor, plan, and evaluate public health programs and services. Everything from tobacco danger control to environmental health concerns is covered.

YouTube Public Health Feature

Master of Public Health student Sotear Tep talks about the Community Health degree in UNTHSC's School of Public Health.

Contact Information
Address: 3500 Camp Bowie Blvd. Fort Worth, Texas 76107
Phone: 817-735-2000
Website: http://www.hsc.unt.edu/education/SPH/
<!- mfunc search_btn ->

<!- /mfunc search_btn ->
UT Southwestern Medical Center Masters Public Health Programs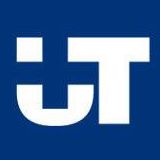 Situated in Dallas, this school isn't just one of the most respected medical centers in the country, it's also a highly respected educational institution as well. The public health program is offered through a partnership with the University of Texas School of Public Health, but also awards an MD from Southwestern Medical Center.
Masters Public Health
As mentioned above, enrolling here will award you with an MD from the Southwestern Medical Center while your Master's in Public Health will be awarded to you by the University of Texas School of Public Health. It's a solid way to get the education you're looking for, and all areas of public health will be covered at length during your education. Biostatistics, epidemiology, and the other core principles are all covered and graduates will be qualified to sit for the applicable certification exams needed to start their careers. It's a four year program designed to supply you with the best education possible.
YouTube Public Health Feature
The Academic Colleges at UT Southwestern are small learning communities that bring together gifted faculty members with small groups of students (typically six) so the students can observe and mirror the professional clinical skills, behaviors, and attitudes of a highly experienced physician.
Contact Information
Address: 5323 Harry Hines Boulevard Dallas, Texas 75390
Phone: 214-648-3111
Website: http://www.utsouthwestern.edu/education/school-of-health-professions/index.html
MPH Scholarships and Fellowships
Attending public health school for a master's degree is thought to be expensive. However, there are many ways in Texas to reduce your costs, through many scholarships, assistantships and fellowships.
Also note that graduate tuition for public universities in Texas is quite low, for in-state residents.
Texas Public Health Internships
Do you need more public health experience to qualify for public health graduate school? Or do you need to complete a public health internship for your MPH program? Then consider one of these public health internships and practicums in Texas:

<!- mfunc search_btn -> <!- /mfunc search_btn ->
MPH Degree Salary in Texas
The salaries for public health workers in Texas are solid and are growing, as the charts below indicate. Indeed.com states that the average salary for public health workers in in Texas is $60,000.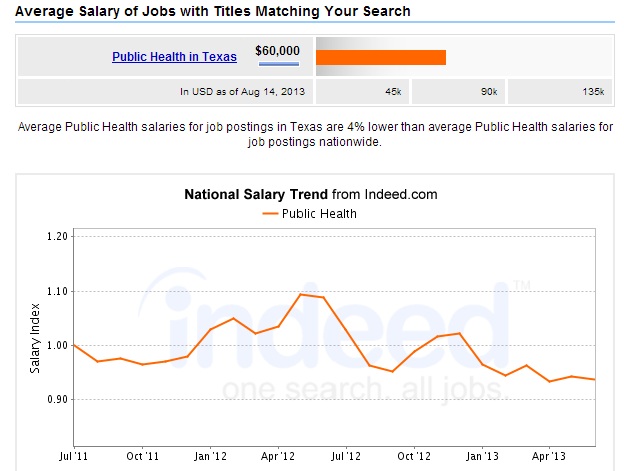 Related MPH Jobs in Texas
Take a look at the excellent salary averages for the various public health jobs in Texas, and you can see why this is a state you want to check out. For example, microbiologists in Texas earn $63,000 per year on average, and nurses in public health earn $70,000 per year. Public health advisors, which usually work for state and local government, earn $77,000 per year.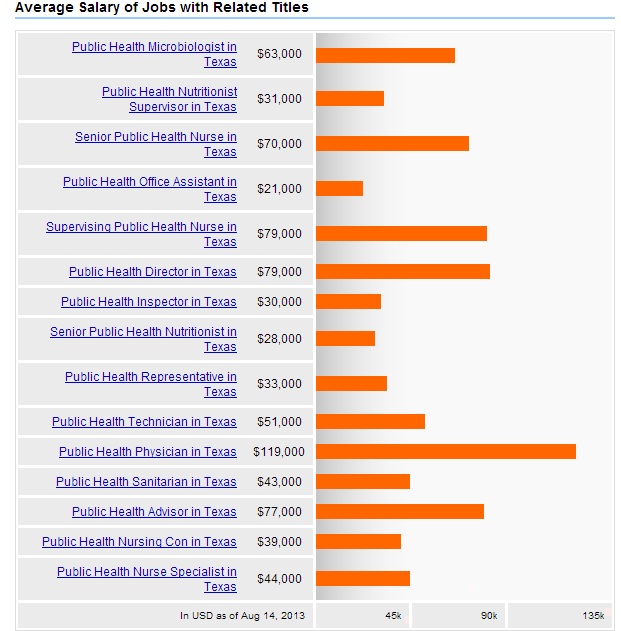 Texas Career Opportunities for MPH Grads
A public health career in the state of Texas offers something for everyone who is interested in this growing field. Whether you are interested in epidemiology, biostatistics, environmental health, health education or health policy, you can find an exciting career path in Texas.
Overall, Texas job and salary growth is among the best in the country, having far outpaced the country as a whole in term of quality job growth. This is buoyed by the fact that public health jobs, such as epidemiology, is experiencing rapid growth throughout the country. In fact, epidemiologists jobs are expected to increase nationally by 24% by 2020. We can expect growth in the growing state of Texas to be as fast or faster.
Public health professionals in Texas come from a variety of backgrounds. They can be teachers, administrators or healthcare professionals. They help develop and design programs and policies that promote the overall health and well-being of the community. A Master's degree in Public Health will help you gain the expertise to take up a leadership position in the field.
Some of the great places to work with an MPH degree in Texas include:
<!- mfunc search_btn ->
Texas Public Health Research and Community Centers
The state of Texas has many centers of research and community centers in the field of public health. Their goals are to better the lives of the people and communities of Texas and around the globe by improving public health one step at a time.

<!- /mfunc search_btn ->