<!- mfunc feat_school ->

Our Public Health Person of the Week series is designed to inspire & encourage students to pursue a career in the myriad sectors within global public health. Public health is far reaching and incredibly expansive, providing the platform in which to improve the lives of local & national communities worldwide. As Dr. Seuss said, "You have brains in your head. You have feet in your shoes. You can steer yourself any direction you choose…" – 'Oh, The Places You'll Go!'-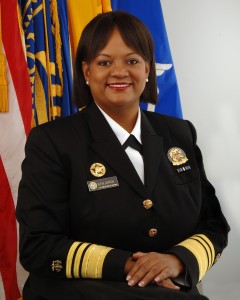 Person of the Week for November 26, 2012
Regina M. Benjamin, MD, MBA is the current Surgeon General of the United States. As the top doctor in America, Dr. Benjamin's role is to give the US public the best scientific information available on how to improve their health, and how to improve the public health of people who live in the United States. Dr. Benjamin oversees 6,500 public health officers who serve in facilities around the world, whose job it is to promote and protect the health of the people of America.
Dr. Benjamin has long dedicated her career to promoting public health to the best of her abilities, no matter in what role she served. From the early days of her career when she founded a rural health clinic in Alabama, which she kept running despite damage from several hurricanes and a major fire, to her leadership role today in advancing preventive health care around the world, Dr. Benjamin has many strong accomplishments in the field of public health.
Accomplishments
In her work as Surgeon General, Dr. Benjamin protects and advances the health of the US population through education, advocating disease prevention and health promotion program, and providing a strong sense of national commitment to public health.

She provides strong health policy analysis and advice to the president and the Secretary of Health and Human Services on many topics that are critical to public health that are facing the US today.

Dr. Benjamin was the associate dean for Rural Health at the University of South Alabama College of Medicine in Mobile. She also was the past chair of the Federation of State Medical Boards of the United States. In 1995, she was the first doctor under the age of 40 and the first African American female to be elected to the American medical Association Board of Trustees.

Benjamin also served as president of the American Medical Association Education and Research Foundation, and as the chair of the AMA Council on Ethical and Judicial Affairs.
<!- mfunc search_btn ->

<!- /mfunc search_btn ->
In 2002, she was the first black president of a state medical society in the US, as she assumed leadership of the Medical Association State of Alabama.

She was called by Time magazine as one of the Nation's 50 Future Leaders Age 40 and Under, and she was featured in a 1995 New York Times article called Angel in a White coat. Benjamin was named Person of the Week on ABC's World News Tonight, and Woman of the Year by CBS This Morning.

Dr. Benjamin received in 1998 the Nelson Mandela Award for Health and Human rights, and the 2000 National Caring Award, which was inspired by Mother Teresa.
Background
Dr. Benjamin earned a BS in chemistry from Xavier University in New Orleans, an MD degree from the University of Alabama at Birmingham, and an MBA from Tulane University. She attended Morehouse School of Medicine, and she did her family medicine residency in Macon, GA. She also holds 18 honorary degrees.
Dr. Benjamin was the first member of her family to go to medical school, and she noted that she had never seen a black doctor before she went to college. After she earned her MD, she started a solo medical practice in Bayou La Batre,AL, and she also worked for several years in ERs and nursing homes. After she earned her MBA, she converted her doctor's office into a rural health clinic, which was named the Bayou La Batre Rural Health Clinic.
What She Has Been Up To
During the Thanksgiving holiday in 2012, Dr. Benjamin spoke about this holiday being the ninth annual Family Health History Day. She noted that while our families gather for the traditional turkey dinner, that it was a good time for us to learn more about the health history of our families.
She noted that only ⅓ of Americans have ever tried to write down their family's health history. Doing so is a powerful health screening tool that more Americans should be doing to improve their family's health.
She said that one of the most important steps in prevention and wellness is to learn about the health conditions that have afflicted our families in the past, that could put us at higher risk for major diseases.
Dr. Benjamin stated that the Surgeon General's office had released an Internet-based tool called My Family Health Portrait where anyone can create a portrait of the health history of their family. It can be found at https://familyhistory.hhs.gov.
Where She Has Been Quoted
"An important step in prevention and wellness is learning about health conditions in our families that may put us at increased risk for diseases such as diabetes, heart disease, some cancers, Alzheimer's disease, mental illness and many others," said Dr. Benjamin. "Tracking illnesses from one generation to the next can help health care providers predict illnesses for which you may be at risk, and develop a personalized disease-prevention plan just for you."

– Announcement by the Surgeon General on the ninth annual Family Health History Day, Nov. 22, 2012.
<!- mfunc search_btn ->

<!- /mfunc search_btn ->
Tweet Alert
Dr. Benjamin is active on Twitter (@SGRegina). Some of her recent tweets include the following:
@marchofdimes Thank you all. Remember that #Thanksgiving is National Family History Day #familyhealthhistory. 1.usa.gov/AbjHF1

— Regina Benjamin, MD (@SGRegina) November 20, 2012
Learning about your family's health history can help ensure a longer, healthier future together. #familyhealthhistory

— Regina Benjamin, MD (@SGRegina) November 20, 2012
For help quitting smoking – when you're pregnant or any time – call 1-800-QUIT-NOW & check out BeTobaccoFree.gov#familyhealthhistory

— Regina Benjamin, MD (@SGRegina) November 20, 2012
To Learn More
To learn more about Dr. Benjamin's work and to get in touch with her, please visit the US Surgeon General's Website. Thank you for your hard work in helping protect our public health, Dr. Benjamin!