<!- mfunc feat_school ->

Our Public Health Person of the Week series is designed to inspire & encourage students to pursue a career in the myriad sectors within global public health. Public health is far reaching and incredibly expansive, providing the platform in which to improve the lives of local & national communities worldwide. As Dr. Seuss said, "You have brains in your head. You have feet in your shoes. You can steer yourself any direction you choose…" – 'Oh, The Places You'll Go!'-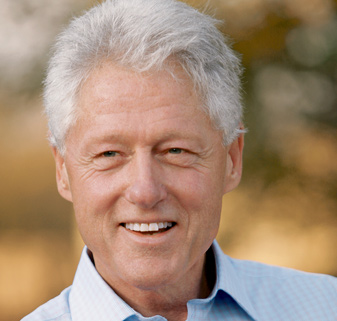 Person of the Week for November 19, 2012
President William Jefferson Clinton was the first Democratic president in more than 60 years to be elected twice, and he led the US to the longest economic expansion in history, which included the creation of over 20 million jobs.
After he left office, President Clinton established the William J. Clinton Foundation, which has taken a major role in the improvement of public health. In its 10 years of existence, the Foundation has helped to improve global health, strengthen local economies, promote child health, and protect the environment.
At this time, the William J. Clinton Foundation has volunteers and staff around the globe who are working to improve people's lives in several ways:
The Clinton Health Access Initiative helps four million people living with HIV to obtain access to drugs that save their lives.
The Clinton Development Initiative is using a business approach to fighting climate change around the world and also is promoting sustainable economic growth in Latin America and Africa.
The Alliance for a Healthier Generation is working in the US to fight childhood obesity.
The Clinton Global Initiative brings together leaders from around the world to devise solutions to pressing public health issues.
Currently, the Foundation is working to support the neighborhoods of New York City that have been devastated by Hurricane Sandy. On November 18, 2012, the Clinton Global Initiative brought together people and organizations around the US to volunteer for a day in a local community, and this effort helped the clean up effort in New York.
<!- mfunc search_btn ->

<!- /mfunc search_btn ->
Accomplishments
The Foundation headed by President Clinton has had many measurable accomplishments in its 10 years of existence in these areas of public health:
Global Health: The Foundation has worked with manufacturers on the supply side and with governments on the demand side to cut the costs of key drugs. This has allowed millions of people to receive treatments that have saved their lives. They also have used this model to obtain treatments for needy people for malaria and TB, improved access to diagnostic tests, and to increase the availability of vaccines that save lives.
Childhood Obesity: The Foundation has partnered with schools, medical organizations and private companies to encourage at risk children to eat healthy and exercise more.
Health and Wellness: The Foundation has made strong efforts to help individuals and communities to eat better, exercise more, drink more water, and to overall live healthier in simple ways that most people can do.
Economic Inequality: The Foundation is investing money to ensure that there is better access to investment capital, markets and education in economic disadvantaged parts of the world. This helps to ensure that underserved populations in the world realize their full potential. By having a better opportunity to feed and support their families, the health of these people increases.
The Foundation also has taken major strides to help people that were affected by Hurricane Sandy. The Foundation has been encouraging citizens to reach out to neighbors and communities and help out however they can, including money, time, expertise, whatever people can give. The Foundation also has been on the scene in New York City with hundreds of volunteers aiding in the cleanup effort.
Background
President Clinton was born in 1946 in Hope, Arkansas. He was raised by his mother and stepfather in Arkansas. The young Clinton excelled in school and also as a player of the saxophone. He was a delegate to Boys Nation in high school, when he met President Kennedy in the Rose Garden. This encounter made him want to pursue a life of public service. He eventually graduated from Georgetown University in international affairs, and then attended Oxford University on a Rhodes Scholarship. He obtained his law degree from Yale in 1975. Clinton was elected attorney general of Arkansas, governor of the state, but was defeated when he ran again in 1980. However, he was re-elected governor in 1982, and served five more terms as governor, leaving office in 1992. He was elected president in 1992 and reelected in 1996.
His wife, Secretary of State Hillary Clinton, have one daughter, Chelsea, and live in Chappaqua, NY.
After President Clinton left office, he joined President George H.W. Bush on three separate occasions to help with public health efforts after a tragedy or natural disaster. The two former presidents went to South Asia in 2004 after a devastating tsunami, to New Orleans after Katrina in 2005, and again to New Orleans after Hurricane Ike in 2008. Clinton also visited Haiti with President George W. Bush after the 2010 earthquake. The Clinton Foundation also does a good deal of work in support of economic growth, job creation and sustainability in Haiti.
What He Has Been Up To
On November 18, 2012, President Clinton and his daughter Chelsea urged volunteers to turn out for their Day of Action for New York. The Clinton Foundation was trying to recruit thousands of volunteers to help people recover from Hurricane Sandy. Many neighborhoods in Queens, Staten Island and Long Island are still severely damaged by the hurricane. Clinton said that through this strong effort of volunteers, hopefully homes, communities and cities can begin to make progress and move on from the hurricane aftermath.
Where He Has Been Quoted
"We live to prove that cooperation works better than conflict." – Clinton Global Initiative meeting of global leaders from around the world, Sept. 2012
<!- mfunc search_btn ->

<!- /mfunc search_btn ->
Tweet Alert
The Clinton Foundation is very active on Twitter (@ClintonTweet). Recent Tweets on Hurricane Sandy include:
President Clinton viewed the damaged boardwalk at Rockaway Beach during our #dayofaction for #Sandy recovery instagr.am/p/SL3sDguMtO/

— Clinton Foundation (@ClintonTweet) November 18, 2012

President Clinton met with the our #DayofAction volunteers helping the Rockaways recover from #Sandy. instagr.am/p/SLwIj4uMlp/

— Clinton Foundation (@ClintonTweet) November 18, 2012

Our volunteers hard at work for #sandy clean up. #dayofaction instagr.am/p/SLj4M9uMpn/

— Clinton Foundation (@ClintonTweet) November 18, 2012
To Learn More
To learn more about the work President Bill Clinton and his Foundation is doing in public health, please visit the Foundation Website or check out the Foundation Blog. Thank you for all your efforts in global public health, President Clinton!