<!- mfunc feat_school ->

Our Public Health Person of the Week series is designed to inspire & encourage students to pursue a career in the myriad sectors within global public health. Public health is far reaching and incredibly expansive, providing the platform in which to improve the lives of local & national communities worldwide. As Dr. Seuss said, "You have brains in your head. You have feet in your shoes. You can steer yourself any direction you choose…" – 'Oh, The Places You'll Go!'-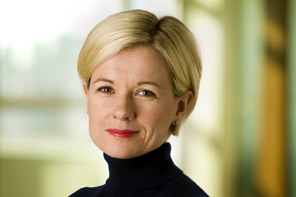 Person of the Week for Oct. 8, 2012
Our Person of the Week is Kate James, the Chief Communications Officer for the Bill and Melinda Gates Foundation. Her position at the Foundation entails the oversight of internal and external communications for the organization. She also collaborates with advocacy and policy groups in global development and global health to advance the efforts and strategies of the Foundation.
Accomplishments
Since she joined the Gates Foundation in 2010, she has worked to centralize and improve the efficiency of the group's communications. James also has leveraged social media and other technology tools to create more conversation around the world about the most worthy causes.
<!- mfunc search_btn ->

<!- /mfunc search_btn ->
For example, James spearheaded a three year partnership between The Gates Foundation and the Spanish soccer team FC Barcelona. It leveraged the team's popularity around the globe, by having some players participate in PSAs about the ongoing fight to end polio. This helped to increase awareness and to spread the word about how important vaccines are.
Background
Before she joined The Gates Foundation, James worked in the financial services industry and also in the pharmaceutical industry. Some of her previous positions included:
Senior Vice President, Global Corporate Communications – Citibank
Executive role – Standard Chartered Bank
Executive communications role – GlaxoSmithKline
James also is actively involved in the non-profit world community. She is a board member for Vital Voices Global Partnership, and is a trustee of Trade plus Aid.
What She's Been Up To
Kate James recently spoke at the Social Good Summit. This video is from Day 3 of the Summit.
Where She's Recently Been Quoted
"Countries use social media very differently, and it's very dependent on their particular cultures. But I do think China is setting an incredible example in terms of the way that social media companies put aside the competition when they form an alliance for social good," said Kate James, the foundation's chief communications officer, in an exclusive interview with Xinhua during the Beijing forum of the Social Good Summit 2012.
Our Favorite Kate James Tweet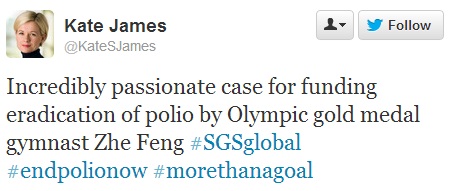 More About Kate James
To learn more about Kate James visit the Bill & Melinda Gates Foundation where you can read about Programs & Partnerships including various global development programs, progress reports, research & evaluation and much much more.

Thank you for all you do in this global community.
<!- mfunc search_btn ->

<!- /mfunc search_btn ->
Do you know someone in the global health community worthy of being nominated for our Person of the Week Series? Contact us now.