FEATURED PROGRAMS
SPONSORED LISTINGS
George Washington University
Milken Institute School of Public Health
Online Master of Public Health (MPH) program. GRE waivers available. Complete in as few as 12 months.
UNC
Gillings School of Global Public Health
Online MPH From #1 Public School of Public Health
Baylor University
Master of Public Health Online: Specialize in Community Health | No GRE Required
Simmons
Online Master of Public Health program, MPH@Simmons
Tufts School of Medicine
Online MS in Health Informatics & Analytics. Complete in as few as 20 months. GRE waivers available.
Regis College
Online Master's in Public Health (MPH) Program
Benedictine University
CEPH Accredited Online MPH Program
Capella University
Online Master's in Public Health (MPH) and Doctor of Public Health (DrPH)
Our Person of the Week series is designed to inspire & encourage students to pursue a career in the myriad sectors within global public health. Public health is far reaching and incredibly expansive, providing the platform in which to improve the lives of local & national communities worldwide. As Dr. Seuss said, "You have brains in your head. You have feet in your shoes. You can steer yourself any direction you choose…" – 'Oh, The Places You'll Go!'-
United Nations Secretary-General Ban Ki-moon – March 25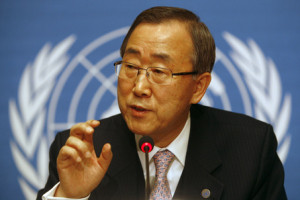 Ban Ki-moon is the eighth Secretary-General of the United Nations. The priorities for the Secretary-General have been to mobilize nations around the world for the latest global challenges. These include economic upheaval, pandemics, food, energy and water shortages, war and climate change.
Ban Ki-Moon spent his youth in war in Korea, so he has seen the best of the United Nations at work as it helped Korea to rebuild and recover. That experience has caused him to try to be a builder of bridges as the Secretary-General and a dedicated public servant to the cause of public health. He is determined to see the UN provide tangible and meaningful results that advance peace, development and human rights.
Accomplishments
The Secretary-General has been very active in many initiatives that promote public health and the general welfare of the world's most needy. The Secretary-General's first big initiative was the 2007 Climate Change Summit. This was followed by major diplomatic efforts that put the climate change issue at the top of the world agenda. Some of his later efforts were surrounding the Millennium Development Goals, where he focused on the world's most important anti-poverty targets. Those goals have generated $60 billion in pledges, with a special focus on Africa and the new Global Strategy on Women's and Children's Health. Also, at the peak of the economic crisis in 2008, the Secretary-General appealed to the G20 for a $1 trillion package of financing for developing countries and also took other important steps to help the international response to the crisis to protect the poor and vulnerable.
The Secretary-General also passed UN Women, a new agency that consolidates the work of the UN in this area. He has advocated for women's rights and gender equality, and has created the Unite to End Violence Against Women campaign, the Stop Rape Now effort, the creation of a Network of Men Leaders, and he also established a new Special Representative on Sexual Violence in Conflict.
The Secretary-General also has tried to strengthen UN peacekeeping efforts with the New Horizons initiative, the Global Field Support Strategy and the Civilian Capacity Review. These three efforts attempt to improve the impact of 120,000 UN troops that are working in conflict zones around the world.
Under his leadership, the UN also has tried to rejuvenate the world disarmament agenda with a five point plan, more efforts to break the deadlock at the Conference on Disarmament, and more attention on nuclear safety and security, after the disaster at the Fukushima Daiichi Nuclear Power Plant in Japan.
Background
Mr. Ban was born in the Republic of Korea in 1944. He earned his bachelor's degree in international relations from Seoul National University in 1970, and he earned his master's degree in public administration from the Kennedy School of Government at Harvard University.
When he was elected Secretary-General, Mr. Ban was the Minister of Foreign Affairs for South Korea. He had 37 years of service with the ministry, which included work in New Delhi, Washington DC, and Vienna.
His ties to the UN go back to 1975, when he was working for the Foreign Ministry's UN Division. That work grew over the years, and his assignments included service as Chairman of the Preparatory Commission for the Comprehensive Nuclear Test Ban Treaty Organization, and the Chef de Cabinet during Korea's 2001-2002 presidency of the UN General Assembly.
What He Has Been Up To
In March 2013, the Secretary-General committed much time and work to condemning the rebel seizure of state power in the Central African Republic, and he called for the earliest restoration possible of constitutional order. Rebels took power of Bangui, the capital, after President Francois Bozize fled to Cameroon.
The Secretary-General made public statements from UN headquarters condemning the unconstitutional power seizure that took place on March 24. Ban also noted that he was deeply concerned by reports of human rights violations, and he said that people who commit such acts will be held responsible.
Where He Has Been Quoted
"The Secretary-General condemns the unconstitutional seizure of power that took place in the Central African Republic (CAR) on 24 March 2013 and calls for the swift restoration of constitutional order," according to a March 22 UN press release.
Tweet Alert
The Office of the Secretary-General maintains an active Twitter presence at @UN_Spokesperson. Some recent Tweets:
#UNSG Ban appoints Tegegnework Gettu of Ethiopia as head of UN department for General Assembly & Conference Management

— UN Spokesperson (@UN_Spokesperson) March 25, 2013
Speaking with President of #France, #UNSG voices concern for safety of civilians, UN staff in #CentralAfricanRepublic bit.ly/16ROOJh

— UN Spokesperson (@UN_Spokesperson) March 24, 2013
At "challenging" time for the region, #UNSG calls for unity after Prime Minister of #Lebanon resigns bit.ly/YiIXvG

— UN Spokesperson (@UN_Spokesperson) March 23, 2013
To Learn More
To learn more about Secretary-General Ban and to get in contact with him, please visit the Secretary-General's Website. We would like to thank Secretary-General Ban for all of his dedicated work on public health and human rights throughout the world.