<!- mfunc feat_school ->

Our Public Health Person of the Week series is designed to inspire & encourage students to pursue a career in the myriad sectors within global public health. Public health is far reaching and incredibly expansive, providing the platform in which to improve the lives of local & national communities worldwide. As Dr. Seuss said, "You have brains in your head. You have feet in your shoes. You can steer yourself any direction you choose…" – 'Oh, The Places You'll Go!'-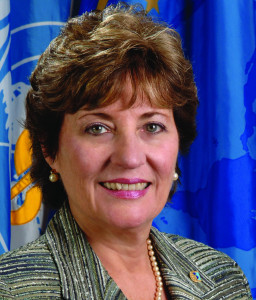 Person of the Week Dr. Roses Periago – PAHO.org – December 3rd
Dr. Roses Periago is the Director of the Pan American Health Organization (PAHO). She graduated as a surgeon and doctor from the National University of Cordoba in 1969. She specialized in the epidemiology of some of the most infectious diseases that afflict needy populations. Dr. Periago also has a masters in public health from the State University of Buenos Aires, and in tropical medicine from the Federal University of Bahia, Brazil.
Accomplishments
As Director of PAHO, Dr. Periago works to support countries in their efforts to meet the Millennium Development goals that help to improve the health of the most vulnerable communities in the world. She works to position public health on political and development agendas for countries around the work, calling for action to take place on social and environmental problems that lead to public health problems.

Dr. Periago promotes a work philosophy that promotes the building of consensus and building new partnerships to attract new organizations and people to help better public health. She focuses her efforts on achieving improvements in the critical health areas of needy countries, as well as the promotion of equity in health.
<!- mfunc search_btn ->

<!- /mfunc search_btn ->
She was first elected as the Director of PAHO in 2002, and was reelected to another term in 2007. She also was elected Director of the Pan American Sanitary Bureau. She was the first woman to head this organization, which is the oldest international health organization in the world.

Her hard work to improve public health around the globe has been greatly appreciated, and she has won many awards. She has been awarded the Civil Order of Health in Spain; the Order of Health Public; the Order of Marshall Santa Cruz; the Agricultural Medal of Merit, and the Order of Bolivar the Liberator (Bolivia); Decoration of Merit in Public Health (Ecuador); Jose de Marcoleta Order (Nicaragua); and Order of Merit of Duarte, Sanchez and Mella (Dominican Republic).

Dr. Periago was awarded honorary professorships at the Escuela Andaluza de Salud Publica in Granada, Spain, and an honorary doctorate from the Universidad Nacional de Cordoba, Argentina.
Background
Dr. Periago started her career in medicine and public health in Cordoba, Argentina. There she was a resident at the Rawson Hospital, and she was a teaching assistant in preventative and socialized medicine and infectious diseases at the National University. She also was a researcher in Argentina's national program to prevent and treat hemorrhagic fever. In 1974, she started to work in the Ministry of Public Health in Argentina.
Dr. Periago joined PAHO in 1984 and headed the surveillance unit in the organizations Caribbean Epidemiology Center in Trinidad and Tobago. In 2002, she was elected Director of the Pan American Health Organization by the countries of the Americas.
What She Has Been Up To
In December 2012, PAHO celebrated its 110th year of promoting good public health in the Americas. Dr. Periago has been busy promoting PAHO in many media outlets, as well as Twitter, to help to raise awareness of the work that PAHO does on behalf of the world's neediest communities.
Where She Has Been Quoted
"Many studies have shown that policies to provide free care for mothers and children and to establish conditional cash transfers linked to education and health goals are economically and socially sound. Instruments designed to cover catastrophic health expenditures faced by the poorest and unemployed, ensure access to essential medicines packages, and reduce or eliminate financial barriers to school nutrition and healthcare are also very valuable."

– Interview with International Food Policy Research Institute, 2012
<!- mfunc search_btn ->

<!- /mfunc search_btn ->
Tweet Alert
Dr. Periago is active on Twitter (@mirtaroses). Some of her recent Tweets:
Happy Birthday @pahowho ! 110 YEARS PROMOTING HEALTH IN THE AMERICASow.ly/i/1bX9s

— Mirta Roses Periago (@mirtaroses) December 2, 2012
#DidYouKnow During the past century, life expectancy in the hemisphere has gained nearly three decades! #Health #PAHO110

— Mirta Roses Periago (@mirtaroses) December 1, 2012
There is a place in the world for soloists, but in public health we play in an orchestra. We are a big team. #globalhealth

— Mirta Roses Periago (@mirtaroses) November 28, 2012
To Learn More
To read more about Dr. Periago and to get in touch with her, please visit the PAHO website. Thank you for all of your work on public health, Dr. Periago!