FEATURED PROGRAMS
SPONSORED LISTINGS
Simmons
Online Master of Public Health program, MPH@Simmons
George Washington University
Milken Institute School of Public Health
Online Master of Public Health (MPH) program. GRE waivers available.
UNC
Gillings School of Global Public Health
Online Master of Public Health program, MPH@UNC
Benedictine University
CEPH Accredited Online MPH Program
Capella University
Online Master's in Public Health (MPH) and Doctor of Public Health (DrPH)
Our Person of the Week series is designed to inspire & encourage students to pursue a career in the myriad sectors within global public health. Public health is far reaching and incredibly expansive, providing the platform in which to improve the lives of local & national communities worldwide. As Dr. Seuss said, "You have brains in your head. You have feet in your shoes. You can steer yourself any direction you choose…" – 'Oh, The Places You'll Go!'-
Dr. Carlos Del Río, Emory University – March 18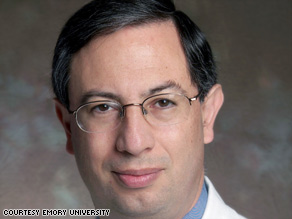 Dr. Carlos Del Rio, MD, is Professor and Chair of the Hubert Department of Global Health at the Rollins School of Public Health. He also is Professor of Medicine in the Division of Infectious Diseases at the Emory University School of Medicine. Also, he is Vice Chair in the Department of Medicine and Chief of the Emory Medical Service at Grady Memorial Hospital, and Co-director of the Emory Center for AIDS research.
Dr. del Rio has held many leadership roles in the field of public health, including executive director of the National AIDS Council of Mexico, and program director and principal investigator of the Emory AIDS International Training and Research Program.
Accomplishments
Dr. del Rio first arrived at Emory University in the field of cardiology in the early 1980s. However, he soon ended up shifting his work to HIV/AIDS because the epidemic was just beginning at that time. While he was not previously interested in the AIDS epidemic, he always was interested in public health. So the shift to HIV/AIDS in his career was natural.
Since that time, Dr. del Rio has worked very hard to cut down on the spread of HIV on many fronts in the US and in Mexico.
Dr. del Rio's research interests and accomplishments involve the epidemiology of opportunistic infections in HIV and other related immune deficiencies. Also, he has made much progress in the understanding of the epidemiology and transmission dynamics of HIV and other sexually transmitted diseases, HIV testing, access to care and full compliance with antiretroviral drug programs.
Dr. del Rio also conducts rewarding and innovative research on the impact of HIV in developing countries, and the best use of antiretroviral drugs in settings with limited resources.
Dr. del Rio belongs to the Scientific Advisory Committee of the Latin American AIDS Initiative, the Monitoring of the AIDS Pandemic Network, and is an associate editor of AIDS Clinical Care and AIDS Research and Human Retroviruses and a member of the editorial board of Journal of AIDS.
He also has written five books, 30 book chapters and over 100 scientific papers.
Background
Dr. del Rio is from Mexico, and he attended medical school at Universidad La Salle, where he graduated in 1983. He conducted his internal medicine and infectious diseases residencies at Emory University. In 1989, he went back to Mexico, where he was the Executive Director of the National AIDS Council of Mexico. He returned to Emory University in 1996. He was the Chief of the Emory Medical Service at Grady Memorial Hospital from 2001-09.
What He Has Been Up To
Dr. del Rio was very active in the promotion of World AIDS Day at the end of 2012 and the start of 2013, which has been recognized since 1981. This is widely thought of as the most recognized international health awareness day in the world. Each World AIDS day is focused on a theme that is used to educate the general public on AIDS-related topics. These themes usually last for one or two years, and include 'AIDS and the family,' and 'Stigma and discrimination.'
Where He Has Been Quoted
"I love the motto of the Gates Foundation—that everyone is entitled to live a healthy, productive life. I couldn't agree with that more. In this world where there are so many resources, why do children need to die of malnutrition or unsafe water or lack of receiving an immunization that costs pennies?"
– Emory University Magazine, Fall 2012
Tweet Alert
The Hubert Department of Global Health at the Rollins School of Public Health at Emory University is active on Twitter (@EmoryRollins):
A previous salmonella outbreak in kids has been linked to African dwarf frogs kept as pets bit.ly/Z3t8C7

— RWJF PublicHealth (@RWJF_PubHealth) March 15, 2013
Why does where you live matter to your health? Join our #healthrankings Twitter Q&A, Wed at 2pmEST to find out #hcsm #healthdata

— RWJF PublicHealth (@RWJF_PubHealth) March 15, 2013
Breast cancer survivors who consume high-fat dairy foods are at higher risk of dying of cancer bit.ly/Z3t8C7

— RWJF PublicHealth (@RWJF_PubHealth) March 15, 2013
To learn more about Dr. del Rio and his work, and to contact him, visit the Emory Global Health Institute. Thank you for your dedicated work in public health, Dr. del Rio.