<!- mfunc feat_school ->

Our Person of the Week series is designed to inspire & encourage students to pursue a career in the myriad sectors within global public health. Public health is far reaching and incredibly expansive, providing the platform in which to improve the lives of local & national communities worldwide. As Dr. Seuss said, "You have brains in your head. You have feet in your shoes. You can steer yourself any direction you choose…" – 'Oh, The Places You'll Go!'-
Alessandro Vespignani, Sternberg Family Distinguished University Professor, Northeastern University – April 29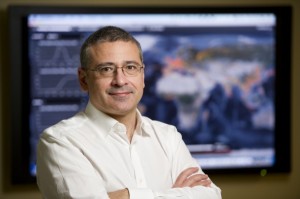 Alessandro Vespignani is a physicist from Italy and a Sternberg Distinguished Professor of Physics, Computer Science and Health Sciences at Northeastern University.
Dr. Vespignani is best known for his research on complex networks, and especially work on network theory applications related to the spread of disease and for his studies on the topoligical properties of the World Wide Web. He is the co-author of the book Evolution and Structure of the Internet, and in 2008 with two other authors, he published the monograph Dynamical Process on Complex Networks. At this time, he is writing a book on self-organized criticality and avalanche phenomena.
Vespignani was recently elected fellow of the American Physical Society and is serving on the board of several physics associations, journals and institutions.
Accomplishments
Vespignani's research is focused on studying techno-social systems. This is where infrastructures that are made of several technological layers are operating together in the social aspect that is driving their development and use. In this context, Dr. Vespignani's aim is to understand how these elements assembled in large numbers can give rise to many types of macroscopic and dynamic behaviors.

<!- mfunc search_btn -> <!- /mfunc search_btn ->

At this time, his research is focusing specifically on these lines:
Developing models both analytical and computational for the evolution of large social, technological and biological networks.

Model contagion processes in large populations to assess how they affect public health at large.

Come up with predictive computational tools that analyze the spread of emerging diseases in at risk communities.

Analyze the evolution and dynamics of social and information systems.

Fully model the adaptive behavior of various social systems.
Dr. Vespignani's recent publications include:
Phase transitions in contagion processes mediated by recurrent mobility patterns, D. Balcan and A. Vespignani Nature Physics, 7, 581-586 (2011).

The Flu Fighters, Colizza, V., and A. Vespignani. Physics World. 23, no. 2: 26-30 (2010).

Predicting the behavior of tecno-social systems, A. Vespignani, Science. 325: (5939): 425-428, (2009).

Multiscale mobility networks and the spatial spreading of infectious diseases. Balcan, D., V. Colizza, B. Goncalves, H. Hu, J. J. Ramasco, and A. Vespignani. Proceedings of the National Academy of Sciences USA. 106 (51): 21484-21489, (2009).
Awards and honors include:
President elected of the Complex Systems Society (2012)

Member of the Academy of Europe, section Physics and Engineering (2011).

Sternberg Family Endowed Chair, Northeastern University (2011).

Top cited article 2005-2010 award by the Theoretical Computer Science journal, Elsevier.

Elected Fellow of the American Physical Society (2008).

Founding director of the Center for Complex Networks and Systems Research, Indiana University (2008).
Background
Dr. Vespignani earned his undergraduate and doctoral degrees in physics from the University of Rome in 1990 and 1993. After his postdoctoral studies at Yale University and Leiden University, he did work for the International Center for Theoretical Physics in Trieste for five years. He became a professor of physics at Indiana University in 2004.
According to Vespignani, he says that his current research involves the interdisciplinary application of statistical and numerical simulation techniques in the analysis of epidemics and spreading phenomena, and also the study of social, biological and technological networks.
What He Has Been Up To
Dr. Vespignani has been working on a study, Quantifying trading behavior in financial markets using Google Trends,  involving an analysis of how many Internet searches are driven by fear. For example, when there are many searches conducted for debt, stocks and portfolio, this can indicate a coming downturn in the markets. Also, when people search for cures for flu or meningitis in large numbers, this can also signal illnesses that are spreading that affect public health.
Where He Has Been Quoted
"The fact that evidence for human decision making can be distilled from an enormous, preexisting data set rather than by conducting surveys or questionnaires is fascinating."It's the meteorology of society."

'Web Searches for Money Words Anticipate Market Moves' – ScienceNews.org, April 25, 2013

<!- mfunc search_btn -> <!- /mfunc search_btn ->
Tweet Alert
Dr. Vespgnani is not on Twitter, but his work has gained much respect throughout the world, and recent Tweets about him include these:
NetSci in Focus:Alex Vespignani in the NYT Magazine today! twitter.com/barabasi/statu…

— Laszlo Barabasi (@barabasi) April 29, 2013
Big data,"the meteorology of society."Nice turn of phrase by Alessandro Vespignani of Northeastern U.

— Mary L. Cole (@euonymous) April 26, 2013
Alessandro Vespignani talks about networks and epidemic spreading http://vimeo.com/64094956

— NESS (@Non_Equilibrium) April 26, 2013
For More Information
To contact Dr. Vespignani and to get more information, please refer to the Northeastern University Website. Thank you for your work in public health, Dr. Vespignani.