<!- mfunc feat_school ->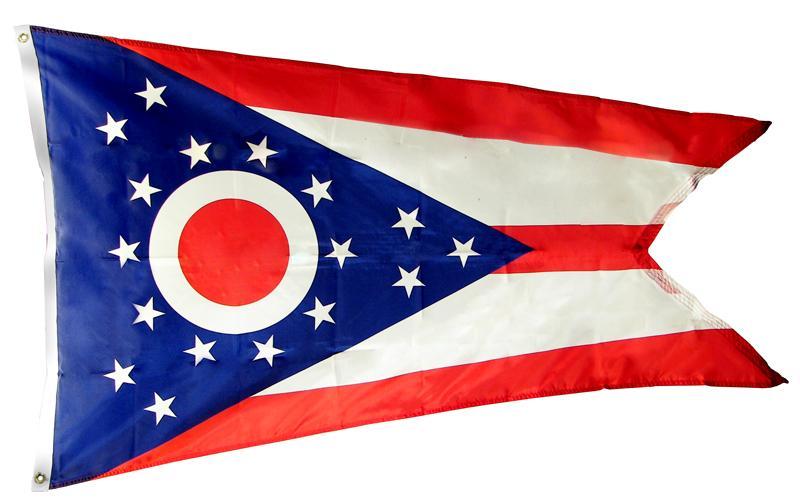 Earning your Masters in Public Health is one of the best things you can do for your career. It will take you down a long and rewarding path working in a variety of different environments. But first you'll need to find the best schools to earn your degree from. In Ohio there are several excellent schools offering students a Masters in Public Health. Here's a look at the three best.
Ohio State University College of Public Health
As the first and only fully accredited Public Health University in the state, this Ohio university is certainly deserving of its place at the top of the list. Ohio State itself has been awarding Public Health Degrees since the early nineties, and the College of Public Health was founded in 2007 with an intensive focus on everything relating to the study of public health in all of its various areas of specialty. It's a small school with roughly 350 students and a staff of just under fifty, but that small size means that individual students get the one on one attention that is needed for a solid education.
YouTube Feature
Stories of innovation from The Ohio State University. Learn about Ohio State's involvement in the battle for maintaining public health and the importance of educating the public. Brittany Westbrook hosts. Expert guests include Dr. Lonnie King, Dr. Larry Schlesinger, and Public Health Research Associate Jason Marion
ke
Masters of Public Health
The school offers a wide range of different public health related studies, and earning a Masters of Public Health will mean focusing on various areas. Global health, health behavior, biostatistics, health services management, and much more are all covered at length when you complete a program through this highly respected educational institution. Simply put, your degree will carry your career far and will be recognized and well respected by healthcare employers around the world, not just the country.
Contact Information:
Address: 250 Cunz Hall 1841 Neil Ave Columbus OH 43210
Phone: 614-292-8350
Website: http://cph.osu.edu/
Wright State University School of Medicine
Located in Dayton, Ohio, this school is committed to the study of modern medicine and health care practices. It offers training in thirteen different medical specialties. There are science departments and clinical departments to ensure that all of a student's training will be as complete as possible, and over twelve hundred volunteers lend their expertise to the school including many medical professionals like physicians and nursing professionals. It is a leading, nationally respected medical school and also offers one of the very best public health programs in the nation.
Masters of Public Health
This school was the first in the state of Ohio to offer a Masters of Public Health program, and is still among the best. The program focuses on global health, emergency preparedness, public health management, and health promotion.
Contact Information:
Address: 3123 Research Blvd., Suite 200 Kettering, OH 45420-4006
Phone: 937-258-5547
Website: http://www.med.wright.edu/mph
<!- mfunc search_btn -> <!- /mfunc search_btn ->
Kent State University College of Public Health
An offshoot of the Kent State University system, their public health college hopes to help deal with the expected shortage of public health professionals in the future. Located in Kent, Ohio, the school features all the amenities and resources of large universities but with the personal touch of liberal arts colleges and smaller universities.
YouTube Feature
The Master of Public Health Program (Leadership and Organizational Change Option), offered at Kent State University's Regional Academic Center in Twinsburg.
Masters of Public Health
This Master's degree program covers five different public health areas including biostatistics, epidemiology, environmental health sciences, health policy management, and social and behavioral sciences. It's a program with a total of forty five credit hours and one that will help to build your knowledge tremendously and ensure that you're able to excel in this field. The program is fully accredited and, as is the case with most programs of this nature, acceptance into the program is competitive.
Contact Information:
Address: 650 Hilltop Dr. Kent, OH 44242
Phone: 330-672-3000
Website: http://www.kent.edu/publichealth/graduate/mph/index.cfm
Ohio MPH Scholarships and Fellowships
While going to graduate school for public health can be pricey, you can find many fellowships and scholarships in the state of Ohio that really can reduce your costs. These are some of the best opportunities in the state:

<!- mfunc search_btn -> <!- /mfunc search_btn ->
Ohio Public Health Internships
For public health students who need an internship to graduate with their MPH, or for those interested in getting more public health work experience, internships are essential. Below are some of the top opportunities for internships in Ohio.
MPH Degree Salary in Ohio
Ohio has an average salary for public health workers of $59,000. This is an excellent wage, when you consider that Ohio has a lower cost of living than many states.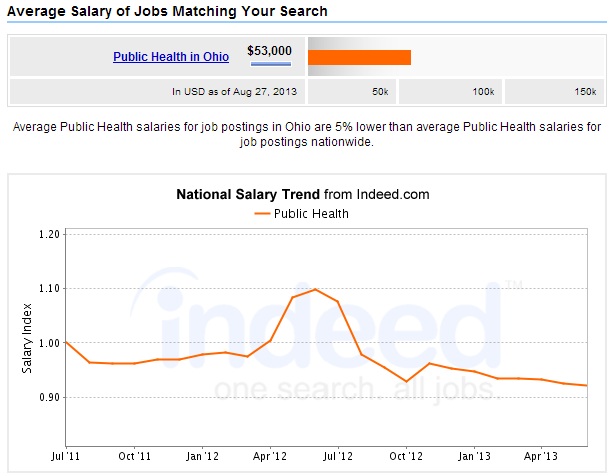 Related MPH Jobs in Ohio
The state of Ohio offers a robust array of public health jobs. From microbiologist to nurse to director of public health, there are many excellent options for the public health professional. For those who are earning their MPH, you can expect to be at the top of the salary range for most of the positions listed below.
Ohio Career Opportunities for MPH Grads
Ohio is one of the most populous states in the country, and there is an increasing demand for robust public health services, just like in the rest of the US.
Its residents are constantly in need for public health services which aim to prevent infectious diseases, substance abuse, domestic violence and mental illnesses. Several government, private and nonprofit agencies work together to promote the overall health and well-being of the residents of Ohio. These organizations employ public health experts to design and implement their programs. Fifteen great places to work in Ohio with an MPH, or Masters of Public Health, degree include:
Ohio Department of Health – The public health officials at the Ohio Department of Health oversee the health education and support services offered by the agency, especially to the underserved sections of the state. The agency offers many entry level and senior management positions to individuals with an MPH degree.
Ohio Public Health Association – The Ohio Public Health Association is an affiliate of the American Public Health Association promotes health of Ohio residents via education, training and advocacy.
Ohio State Medical Center – The Ohio State of Medical Center is one of the top rated hospitals in the United States. It employs public health experts to offer various community outreach, education and support services to its patients.
Cleveland Department of Public Health – The Department of Public Health works to promote health and safety of its residents. It employs individuals with MPH degree as program coordinators and project managers to implement various health programs.
Columbus Department of Health – The Department of Health at the City of Columbus provides important health services including substance abuse prevention, infectious disease control, and mental health services to its residents. There are several options and opportunities for public health graduates.
Kent State University – Kent State University is a great place to work for public health graduates interested in teaching, research and college administration.
Ohio State University – The College of Public Health at the Ohio State University employs individuals with an MPH degree as faculty members, researchers and administrators.
Ohio Department of Rehabilitation and Corrections – The Department's Bureau of Medical Services offers health education and preventive care services to prisoners and inmates of correctional facilities. Public health experts are hired as project coordinators or managers to implement the programs.
Ohio Environmental Protection Agency – Apart from maintaining the quality of natural resources such as air, water and land, the Environmental Protection Agency also studies the impact of environment on health. Public health graduates also develop programs that educate people about the health hazards of pollution and other factors.
Ohio Society of Public Health Education (Ohio SOPHE) – The Ohio SOPHE contributes to the health of Ohio residents by promoting education, advocacy, career development and leadership.
Ohio Public Health Partnership – The Ohio Public Health Partnership agency promotes collaboration between various public health agencies in the state of Ohio to provide comprehensive public health programs across the state.
Dayton and Montgomery County Public Health – This Public Health Department is responsible for providing health and support services to the people in Dayton and Montgomery County.
<!- mfunc search_btn -> <!- /mfunc search_btn ->
Franklin County Public Health Department – If you are interested in using your skills and knowledge in the field of Public Health in designing, developing and implementing programs that directly benefit people within a community, you should consider working for a government public health department such as the Franklin County Public Health Department.
Summit County – Summit County Public Health Department also employs MPH graduates as project coordinators who implement various programs in their county.
Ohio University – The College of Social and Public Health also offers job opportunities of MPH graduates who wish pursue a career in teaching or research.
Ohio Public Health Research, Community Centers and Other Public Health Organizations
Ohio is home to many excellent universities, so it is natural that there is a strong tradition of public health research and community outreach in the field. In fact, the NSF ranks Ohio #10 in total research expenditures among both public and private universities in the US.
Some of the best research and outreach to improve public health is being done at the following institutions: