<!- mfunc feat_school ->

North Carolina is famous for its research triangle and the numerous world renowned schools that call it home.  From Chapel Hill to Duke and beyond, there are few states that have the same high level of universities that the Tar Heel state can boast.  If you're thinking of earning your Masters in Public Health, these schools are among the best in the nation.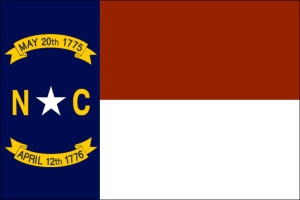 Below are the two universities that we most recommend in North Carolina.
MPH Schools, Colleges & Universities
UNC Gillings School of Global Public Health Masters in Public Health Programs
This school is one of the most respected on the planet when it comes to Public Health, and ranks as the top public school for public health and second among all public health schools, public or private according to the prestigious US News and World Report University rankings.  This means that not only will an education completed here provide students with the highest level of skills possible, but it will also provide them with a degree that will be highly respected no matter where they seek employment.
YouTube Feature
The UNC Gillings School of Global Public Health promotes and improves the health and well-being of North Carolinians. We reach every county in N.C., providing public health training and education.
Masters in Public Health
The school's entire focus is really on public health, and there is a rich diversity in terms of just which areas of that subject you want to focus your studies on.  Departments found here include Health Behavior and Education, Maternal and Child Health, Epidemiology, and much more.  In other words, no matter the area you want to concentrate on, you'll be able to do so.
Contact Information
Address: 2101 McGavran-Greenberg Hall, CB #7435 | Chapel Hill, NC 27599-7435
Phone: 919-966-7430
Web: http://www.sph.unc.edu/hpaa/degrees_and_certificates_226_6474.html
University of North Carolina Greensboro
As part of the UNC system, this school features the same excellent options that other schools provide along with teachers committed to excellence.  The school has offered a public health program for more than two decades, and a degree from this institution will be recognized and respected throughout your career.
Masters in Public Health
The 45 credit hour program offered at this school provides students with all of the skills needed to excel in this field, including the ability to understand infectious disease prevention, emergency situations, and much more.  Numerous exciting internship opportunities round out the program.
Contact Information
Address: 1400 Spring Garden Street Greensboro, NC 27412
Phone: 336-334-5000
Web: http://www.uncg.edu/
<!- mfunc search_btn -> <!- /mfunc search_btn ->
MPH Scholarships and Fellowships
Going to graduate school for your public health degree can be a worry financially, but in North Carolina, you will find an abundance of ways to reduce your out of pocket costs through a variety of fellowships, assistantships and scholarships. Some of the best opportunities for financial aid in North Carolina include these:
North Carolina Public Health Internships
Many students who are interested in public health for their career need to obtain more public health work experience to qualify for an MPH program. Also, you will likely need to complete an internship to earn your MPH degree. Please consider some of these public health internships and practicums in North Carolina:

<!- mfunc search_btn -> <!- /mfunc search_btn ->
MPH Degree Salary in North Carolina
The average salaries for public health employees in North Carolina are still on the increase. The chart below from Indeed.com shows that the average public health salary here is $61,000.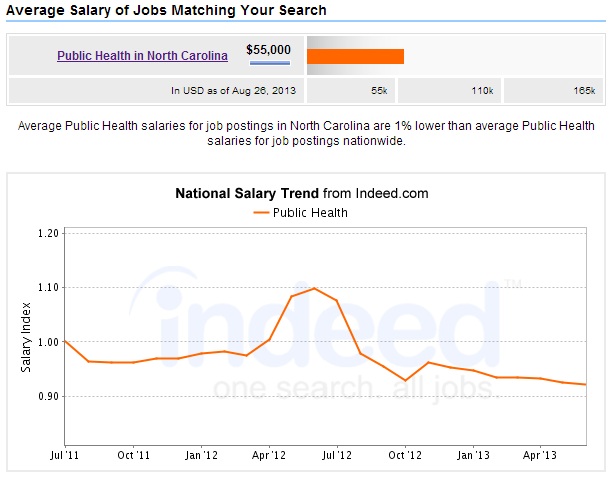 Related MPH Jobs in North Carolina
Please review the solid average salaries for various public health workers in North Carolina. It is clear why North Carolina is a growth state. A public health nurse in this state can earn $72,000, and that will likely increase after more than five years of service. Microbiologists also are well paid at $65,000 per year.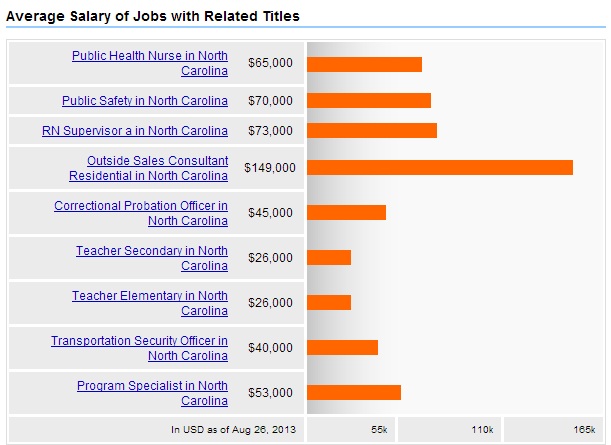 North Carolina Career Opportunities for MPH Grads
A public health career in North Carolina offers many types of job possibilities in the growth field of public health. If you are interested in public health education, epidemiology, microbiology or biostatistics, you can get on a strong career path in this state.
In the spring of 2013, it was determined by ADP that North Carolina is one of the top job growth states in the US. As a whole, public health jobs are on the upswing around the US, with a 24% increase in some public health jobs expected by 2020.
Some of the strongest public health job possibilities in the state include these:
<!- mfunc search_btn -> <!- /mfunc search_btn ->
North Carolina Public Health Research and Community Centers
With the famous Research Triangle of North Carolina, there are many strong centers of research and community centers in this state in public health. Some of the best work in public health research is being done at the following:
North Carolina Institute of Public Health: This organization is part of the University of North Carolina Gillings School of Global Public Health. The mission of the organization is to deliver training, conduct research, and provide the best technical assistance to transform public health for everyone in the state.
North Carolina Public Health Practice-Based Research Network: This organization is set up to stimulate and support new public health research based upon the work of the nine health departments in the state. This unique research network allows the various health departments and their research organizations to study the implementation and the impact of new practice innovations in public health.
North Carolina Center for Birth Defects Research and Prevention: This is a joint effort between the University of North Carolina and the North Carolina Birth Defects Monitoring Program in the North Carolina Division of Public Health. The mission of the center is to do epidemiology research into the many causes of birth defects.
North Carolina State Center for Health Statistics: This is the organization that runs the North Carolina Birth Defects Monitoring Program. It participates in research that provides the most accurate data possible on North Carolina birth defects.