<!- mfunc feat_school ->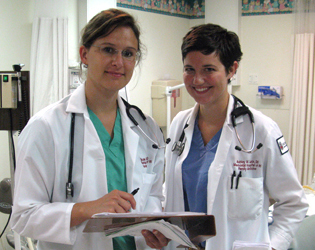 If you are obtaining an MPH degree, you will likely want to take on a residency, fellowship, or internship program during or after your course of study. There are some careers that even require an extra MPH training program implemented into their residency program for those who choose certain careers, such as preventative medicine or infectious disease doctors or healthcare professionals.
If, however, you are specifically looking for an MPH residency, you have a lot to learn. It's important for you to take the time to look at all of your options and figure out exactly what you need from your career. Of course, there are a lot of different residency options out there. You should take the time to explore positions and figure out which roles will give you the step forward in your career that you are looking for. A residency can go a long way in any career in public health, including for MPH graduates as well as those holding joint MDs and other medical degrees.
Choosing a Residency- Where You Work Matters
Where you choose to do your residency makes a difference. A lot of programs are designed to handle specific types of careers or educational programs within the medical and public health fields. Working for various medical centers, government facilities like the CDC, and even in university and teaching hospitals will give you the chance to put your skills to work to make changes in the world of public health. Here are a few other things that you should know about residency:
MPH residencies typically last 24 months, but every program varies slightly. Make sure that you look at the time commitment and ensure that it meets the requirements for your degree and career in the public health industry.
Working at universities and their public health schools or organizations is a great way to gain experience. Many of these facilities are designed to help students learn, which makes them much more adaptable to residencies and fellowship programs that are required by some careers or degrees.
You have to apply diligently for fellowships and residences. Although the world of public health is growing in demand, these are still competitive positions. The better a program is, the harder you will have to fight for a spot. Make sure you put your best foot forward.
Working with government or public organizations can prepare you for a real-world career faster, in some cases. If you want better job opportunities or connections, taking up residency in an organization where you'd like to work is helpful.
Understand which programs you're applying for, as well as which you need. There are often residency programs for physicians and other programs specifically for other MPH holders who want to work elsewhere in the health field.
Accreditation Matters
Just like your Masters in Public Health education, the accreditation of residency and fellowship programs counts. You should find programs that are accredited by the proper accrediting organizations, such as:
Accreditation Council for Graduate Medical Education
American Board of Preventative Medicine
American Public Health Association
There are many other organizations that can be responsible for validating and approving a residency program, but you need to make sure that someone, somewhere supports the programs you are applying for so that you can get the experience that you need for your career. See 5 Things You Should Know About MPH Accreditation.
References