<!- mfunc feat_school ->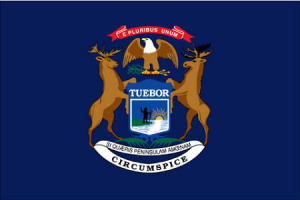 In addition to being bordered by five of the Great Lakes and being home to almost 10,000,000 residents and the American automobile industry, Michigan is also an excellent place for anyone interested in earning a Masters of Public Health degree thanks to the variety of high quality universities in the state.
The top choices include the following:
University of Michigan
Located in beautiful Ann Arbor Michigan, the Master of Public Health program at the University of Michigan is a professional graduate degree provided by the university's School of Public Health. Because it is necessary for individuals to achieve and maintain certain classifications in order to work as a public health professional in certain jurisdictions, earning a Master's degree is an excellent choice for both working professionals and students interested in pursuing this particular career field. Individuals interested in working in local, state or federal health agencies or students who would like to work for international health organizations should consider contacting the University to learn more about their Master of Public Health program. This is the perfect degree for anyone interested in a career in the public or private sector dealing with issues such as substance abuse, disease prevention and control, environmental health, injury prevention or occupational health. The school also offers a Master of Health Services Administration which is ideal for individuals interested in achieving leading positions in both policy and health management.
YouTube Feature
Why choose Michigan? SPH students explain why they chose University of Michigan.
Contact Information
Address – 1415 Washington Heights, 1700 SPH I Ann Arbor, MI 48109-2029
Phone – (734) 764-5425
Website: http://www.sph.umich.edu/
Michigan State University
One of the most important features of the Program in Public Health provided by the Michigan State University is the emphasis that the program puts on applied knowledge. Students enrolled in this course obtain the abilities, knowledge and skills that they need in order to perform their duty successfully as a public health professional both internationally and at home in the United States. Individuals interested in this course can choose from a number of different courses or earn their graduate degree in a specific area of concentration. One of the benefits to attending this program is the fact that all collectors are available online making it easier for working professionals and students with limited spare time to earn their graduate degree. Interested individuals should understand that they will be required to take the core courses in order to create a foundation for their public health degree. Students will also be expected to complete a 240 our internship and a capstone paper in order to demonstrate that they have a full understanding of the skills necessary for a career in public health.
YouTube Feature
Michigan State University Program in Public Health: Dr. Michael R. Rip, MPH, PhD. They have a 100% online MPH option.
Contact Information
Address – West Fee Hall 909 Fee Road Room 519 East Lansing, Michigan 48824
Phone – (517) 353-4883
Website – http://publichealth.msu.edu/pph/index.php
University of Michigan-Flint
In the rapidly shrinking global environment, making a real and substantial difference in the lives of people is a goal of many recent college graduates and professional adult. Individuals interested in taking that passion and turning it into a career can enroll in the Master of Public Health program at the University of Michigan-Flint. This collaborative program requires individuals to complete approximately 45 credit hours which are generally done over the course of about three years. Students can choose from one of two concentrations. Both healthcare administration and health education provide an excellent foundation for future success as a public health professional. Because a significant portion of the course work can be completed online, busy individuals and people who did not think they would otherwise be able to attend a university will find that it is much easier for them to earn the Masters degree that they need in order to find professional success. Students can also choose to attend full or part-time and the faculty of the school are some of the most respected and experienced experts in their particular field. The faculty that teaches the campus courses is also responsible for the online coursework.
Contact Information
Address – 251 Frances Willson Thompson Library
Phone – (810) 762-3171
Website – http://www.umflint.edu/
<!- mfunc search_btn -> <!- /mfunc search_btn ->
MPH Scholarships and Fellowships
While the costs of graduate school can be a concern, there are many scholarships and fellowships available in the state of Michigan that can help to reduce your costs. The best options in the state are listed below.
Michigan Public Health Internships
Most students who are interested in a career in public health need to have more work experience in the field to be considered for entry into a public health program. Also, almost all MPH candidates must complete some type of internship or practicum as part of their degree requirements. The opportunities below are some of the recommended internships for public health in Michigan.
MPH Salary in Michigan
Even though the job picture in Michigan is not as strong as some states, public health workers still are able to earn a good living here. The average salary for public health workers is still a healthy $62,000.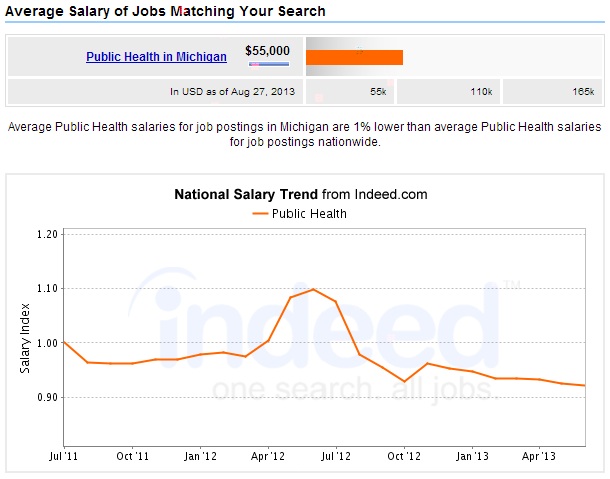 <!- mfunc search_btn -> <!- /mfunc search_btn ->
Related MPH Jobs in Michigan
There are many people living in both large cities and in rural areas in Michigan, so the demand for related public health jobs is higher than for other professions. As you can see in the average salaries below, there are rewarding MPH job opportunities in the state, whether you are interested in public health nursing or in public health inspecting.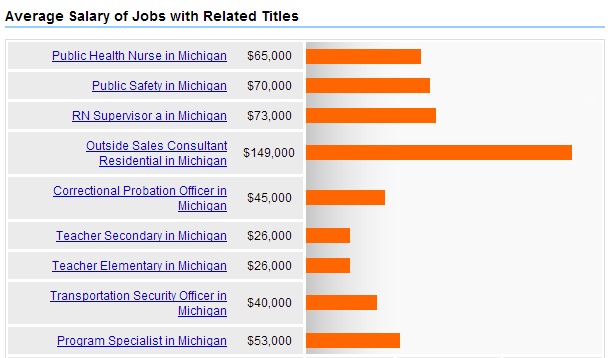 Michigan Career Opportunities for MPH Grads
Working in public health in the state of Michigan means you have many exciting opportunities available to you. Public health departments are very involved in the community in this state, and preserving the environment for future generations is very important. Also, the state is home to the University of Michigan and Michigan State University, which has very active public health departments and research activities, so there are many excellent job possibilities here in public health.
Also, keep in mind that Michigan is home to more than 9.8 million people. The residents of the state constantly depend on various community health programs and support services offered by government agencies and private organizations for their overall health and well-being. The state offers exciting opportunities to individuals trained in the field of Public Health.
A Master's degree in the field will also prepare you to take up leadership positions at various hospitals, schools, government agencies and nonprofit organizations. 15 great places to work in Michigan with an MPH degree include:
<!- mfunc search_btn -> <!- /mfunc search_btn ->
Michigan Public Health Research and Community Centers
The state of Michigan has many vibrant universities and a strong focus on public health. Some of the research institutions and community centers you should know about include these: