<!- mfunc feat_school ->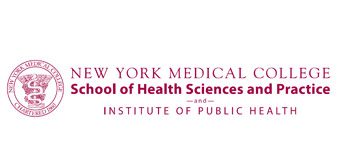 Pamela Suett, Director of Recruitment, New York Medical College School of Health Sciences and Practice joins us today to discuss public health education.
#1 Can you tell us about the public health program(s) at New York Medical College School of Health Sciences and Practice?
The School of Health Sciences and Practices public health programs are accredited by the Council on Education (CEPH) and Middle States Commission on Higher Education.  Our MPH in Environmental Health Sciences and Health Policy and Management are offered totally online as well as graduate certificates in global health, emergency preparedness, and industrial hygiene.  We also offer 0n-campus or blended (on-campus and online) MPH in Epidemiology and Behavioral Science and Health Promotion and graduate certificate in health education.  We also offer an on-campus Doctor of Public Health in Health Policy and Management.
#2 How long does a typical public health master's program take at the School of Health Sciences and Practice?
It takes approximately 2 years full-time to complete the MPH although a majority of our students are part-time.  Typically part-time take 3-4 years to complete the MPH.
#3 What is the maximum and minimum time of completion for a MPH?
The minimum time for completion of the MPH is 2 years and the maximum allow time to complete the MPH is 5 years.

<!- mfunc search_btn -> <!- /mfunc search_btn ->
#4 What do you think makes New York Medical College School of Health Sciences and Practice public health program stand out from other programs in the country?
New York Medical College has a history of involvement in the social and environmental determinants of health and disease, and special concern for the poor, powerless, and the helpless since 1860.  Our beautiful suburban campus is convenient to New York City, Connecticut and New Jersey.  The three schools (medical, basic sciences, and public health) at NYMC are each involved in the education of our students.  We are a small and independent health sciences school that maintains high academic standards, yet part of a larger university system.  We offer totally online MPH degrees and certificates or a blend of online and on-campus classes, and the option to continue public health education through a Doctor of Public Health.
#5 What are the advantages to earning a Master's in Public Health degree?
 According to the Bureau of Labor Statistics, health care employment continues to increase with the heath sector expected to add more than 1.4 million workers over the next ten years.
The U.S. Department of Labor predicts faster than average growth for health care managers, including public health managers: "Additional demand for managers will stem from the need to recruit workers and increase employee retention, to comply with changing regulations, to implement new technology, and to help improve the health of their communities by emphasizing preventative care."
The demand for public health professionals continues to rise in response to global concerns such as bio-terrorism, HIV and AIDS, and air and water quality issues.  Additionally, rising insurance costs and increased awareness of public health and wellness have generated corporate and government support for prevention and education programs in areas such as diet, diabetes, obesity, tobacco use and workplace safety, among others.
#6 Does New York Medical College School of Health Sciences and Practice offer job placement for students who graduate in public health?
The school offers comprehensive online career services to our on-campus and online students. Students also make connections through the practicum that have lead to jobs.
#7 What type of financial aid packages are available for students in public health? Are there any fellowships, grants and scholarships available?
NYMC has a very experienced financial aid office that is helpful and knowledgeable about funding opportunities.
#8 What advice do you have for students who are considering public health for their graduate study?
 Take the time to make sure public health is the career you want to pursue by volunteering or working in the public health arena:  hospitals, community outreach organizations, non-profits (i.e., American Cancer Society), health departments, environmental projects, etc.  Maintaining a GPA of at least 3.0 in undergraduate school is also very important.  Some public health programs require public health experience. However, our MPH does not require work experience but our program provides a structured public health work experience through the "practicum."

<!- mfunc search_btn -> <!- /mfunc search_btn ->
#9 What do you enjoy most about your position at New York Medical College School of Health Sciences and Practice?
I really like working with prospective students to help them make the right decision about a career and program.  The school has only 500 students so I have the opportunity to follow and assist each student from inquiry to enrollment.
For more information on the public health programs offered at New York Medical College School of Health Sciences and Practice, visit them online at www.nymc.edu/shsp.
Thank you Pamela Suett for sharing and participating in this piece.
That concludes our interview!
About Us
MPH Programs List.com is a free resource for students interested in graduate public health, public administration, public policy and health administration programs. Our goal in creating this site was to attract students to these under-served yet highly rewarding fields. We feature top public health schools & programs from hundreds of colleges worldwide as well as job & career tips, internship opportunities, interviews, analysis and more.