<!- mfunc feat_school ->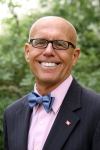 Our Public Health Interview Series is designed to inspire & encourage other students to pursue a career in the myriad sectors within global public health.
Dr. Robert Buckingham, Executive Director of the University of Saskatchewan's School of Public Health, joins us today to discuss public health education.
#1 Can you tell us about the online Master of Public Health programs offered at the University of Saskatchewan?
The Master of Public Health (MPH) program, which includes the online option, trains public health professionals to measure, assess and manage increasingly complex population and public health issues. It offers graduate students integrated learning opportunities in the five core disciplines of public health:  Biostatistics, Epidemiology, Environmental Health Sciences, Health Services Administration, and Social and Behavioural Sciences.
#2 How long does a typical online MPH program take at the University of Saskatchewan? What is the maximum and minimum time of completion?
The distance program is a part-time program and will require three to five years to complete.
<!- mfunc search_btn ->

<!- /mfunc search_btn ->
#3 What do you think makes the University of Saskatchewan's MPH stand out from other online MPH programs?
As one of only a few universities across Canada to offer a distance-based MPH program, School of Public Health at the University of Saskatchewan (U of S) is now able to reach out into Aboriginal, remote and rural communities in the province, across the country and internationally. Not only will this program assist in addressing ongoing public health needs by providing students with accessible learning opportunities, but it will also help to build public health capacity within these communities so they are better able to meet the needs of their populations.
#4 How important would you say accreditation is when choosing an online MPH program?
Accreditation gives students a sense of security knowing that they are enrolling in a program that meets national and/or international standards. The University of Saskatchewan's MPH program has recently been accepted to proceed with the accreditation process.  This is a major accomplishment for our School of Public Health and highlights the University of Saskatchewan on the international stage.
#5 There is some debate as to whether or not online MPH degrees are as worthwhile as traditional MPH degrees. What steps does the University of Saskatchewan take to ensure that online students are receiving the same education that they'd receive in a classroom?
Distance students in our program are required to take two core courses on campus at the U of S.  These courses take place at the beginning and end of the program respectively, and take approximately 2-3 weeks to complete each course. The remaining courses may be taken online during the fall and winter terms or on campus.  The content and standards of the online courses are identical to on campus offerings.
#6 What are the advantages to earning a MPH degree in general?
Many Public Health employers require a graduate degree in public health. An MPH degree emphasizes the use of academic knowledge as a basis for evidence-based public health practice and policy development. The MPH degree prepares public health professionals for careers in the public, non-profit and private health sectors of the economy.
#7 Does the University of Saskatchewan offer job placement for students who graduate in public health?
As part of the Master of Public Health (MPH) curriculum, graduate students are required to complete a 12-week experiential practicum that allows them to integrate classroom theory in a public health work environment, whether it is within a local public health unit, a provincial or federal governmental agency, or a non-governmental organization. This experience allows our students to make contacts within industry and aid their search for employment after graduation.
#8 What type of financial aid packages are available for students in public health? Are there any fellowships, grants and scholarships available?
Scholarships are available from various sources including the University and some corporate donors. These are distributed to students depending on their merit.
<!- mfunc search_btn ->

<!- /mfunc search_btn ->
#9 Do you have any advice for students enrolling in an online MPH program for the first time?
Have patience.
#10 What do you enjoy most about your position at the University of Saskatchewan?
Having the administrative, faculty and staff support for my vision of growth and accreditation.
For more information on the online MPH programs offered at the University of Saskatchewan, visit them online at www.usask.ca/sph.
Thank you Dr. Buckingham, for sharing and participating in this piece.
That concludes our interview!