<!- mfunc feat_school ->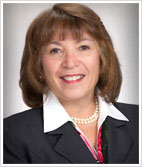 Our Interview Series is designed to inspire & encourage students to pursue a career in the myriad sectors within global public health.
Denise A. Bisaillon, Ed.D., Director, Associate Professor at University of New England joins us today to discuss their CEPH Accredited MPH Program Online.
#1 Can you tell us about the Online Masters in Public Health (MPH) program at University of New England?
The University of New England's (UNE) Master of Public Health program is 100% online and accredited by the Council on Education for Public Health (CEPH), as well as the New England Association of Schools & Colleges (NEASC).
UNE's innovative distance education format is designed to accommodate your demanding schedule by providing 24/7 access to curriculum wherever you are in the world. This flexibility allows you to pursue your degree while still managing work and family responsibilities.
The 46-credit hour MPH curriculum is designed to enhance students' skills in a variety of professional public health areas including global health, public health policy and management, environmental health, community-based participatory research, leadership, health literacy, policy, law, and ethics.
#2 How long does a typical MPH program take at University of New England? What is the maximum and minimum time of completion?
Students can complete their degree in just over one year. However, most of our students are working professionals and typically earn their degree in 2 years of study, taking 2 courses per term. Students have 6 years to complete the MPH program or 3 years to complete the Graduate Certificate in Public Health.
<!- mfunc search_btn ->

<!- /mfunc search_btn ->
#3 What do you think makes University of New England's MPH stand out from other Online MPH programs?
Our faculty! The MPH program at UNE is a quality-driven program with renowned faculty. Our faculty members are seasoned, expert public health practitioners, researchers and educators. Recently, UNE's Public Health Program received a $3.5 million grant from U.S. Department of Agriculture's Supplemental Nutrition Assistance Program – Education (SNAP-Ed) to provide nutrition education in Maine. In addition, our faculty frequently publish their research, speak internationally and are leaders in the public health industry.
#4 What are the advantages to earning a MPH degree?
There is a critical need for Public Health professionals, with the current workforce unable to sustain the health needs of the current population. The Association of Schools of Public Health (ASPH) estimates that by 2020, the United States will be facing a shortfall of 250,000 public health workers.
Earning an MPH degree from a CEPH-accredited school can provide diverse job opportunities in health and human services, hospitals, schools, local and state health departments, international health agencies, non-profit organizations, or research and development institutes. In fact, some employment and fellowship opportunities are only open to graduates of accredited programs like ours, and the national credentialing exam offered to graduate-level public health professionals is only offered to graduates of accredited programs.
#5 Does University of New England offer job placement for students who graduate in public health?
UNE Career Services is available to every student. In addition to job listings, they offer a number of services including resume writing, interview practice, etc. Students are informed of Career Services in every course. These services are also described in the student life handbook.
The program also acts as a conduit for job notifications that come from community leaders, state and national organizations, and current and former students. The program will send job notices out electronically as they become available. Our students have a high job placement rate.
#6 What type of financial aid packages are available for students in public health? Are there any fellowships, grants and scholarships available?
At UNE, more than 90% of our students receive some form of financial aid. Many of our students utilize Stafford loans, receive tuition assistance from their employers or are awarded scholarships from the government (World Health Organization) or the military. We are very mindful of the tuition expense and spend time with our students to ensure they have the proper aid packages in place.
#7 What advice do you have for students who are considering public health for their graduate study?
If someone is considering public health for graduate study, they should take a look at our program and determine what would be best for his or her situation. For instance, we have a number of clinicians (physicians, nurses, physician assistants, dentists, pharmacists and other health care providers) who want to learn about public health and obtain the necessary skills in health promotion and prevention and to enhance their services in current programs or practices.
<!- mfunc search_btn ->

<!- /mfunc search_btn ->
Students should seek a program that matches their professional goals and lifestyle. Our program is set up so that can enroll in a full-time course load yet only take one course at a time. This allows students to immerse themselves in one subject while still taking care of personal and professional responsibilites. On the other hand, many students want to obtain a MPH or GCPH as soon as possible and take two or three courses per session. Our advisors work with them to make sure that their course load is reasonable. We want our students to be successful, no matter how they schedule their studies.
#8 What do you enjoy most about your position at University of New England?
I really enjoy working with our students and faculty! Our students and faculty are very passionate about public health and about making a difference in the world whether it is locally or on a global level. We have students who have worked or work in quite diverse settings and do a wide range of public health activities such as overseeing prevention programs in rural settings in Maine, Alaska, and North Carolina just to name a few. Some of our students are planning and developing health care policies in urban settings such as Massachusetts and New Jersey. We have a student working to become a Public Health Officer in the military and another student working at the Centers for Disease Control in Maryland. We have other students who have worked all over the globe on public health projects. They bring an abundance of knowledge, experience and enthusiasm to our program which is truly inspirational.

For more information on the MPH programs offered at University of New England, visit them online today.
Thank you, Denise, for sharing and participating in this piece.
That concludes our interview!
Related: