<!- mfunc feat_school ->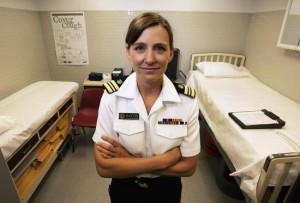 The field of Public Health has become increasingly popular in recent years, and has grown from simply protecting the safety of the citizens towards one of disease prevention and emergency response and preparedness. This enlarging scope of duties has opened up opportunities in many types of careers all over the country.
SEE ALSO: U.S. Public Health Service Commissioned Corps
The wide ranging career options within public health range from those serving in the branches of the military as actual officers, to those within a variety of professional positions within the government as well as industry. The people in these positions are the ones that work to create and direct programs and policies to improve the overall safety of the public.
Education and Jobs
Those serving as public health officers are routinely part of a branch of the military, either Army, Navy, or Air Force. There is an additional group of officers that are part of the U.S. Public Health Service Commissioned Corps. These positions are filled by those that are part of that particular service, and their own educational requirements exist.

For those positions elsewhere in the government, as well as academia and industry, there are often requirements for having earned degrees. Many of these positions with higher degree requirements work to inform and shape large scale change through programs designed to improve aspects of public health and safety, as well as overall wellbeing. There are many colleges that provide educational opportunities for those people interested in careers in public health. There is a webpage that lists schools that have programs in public health at Schools of Public Health Application Service (SOPHAS).

<!- mfunc search_btn -> <!- /mfunc search_btn ->

There are programs at the bachelor, master and doctoral level that can prepare prospective students for the educational requirements of their particular career interests.   According to explorehealthcareers.org, there are fifteen degrees available under this field, as well as 20 major fields of study. These fall within five main areas:
Behavioral Science/Health Education
Biostatistics
Environmental Health
Epidemiology
Health Services Administration
Public Health Officer Salary
For those people interested in the further educated positions within public health, the salaries are highly varied.
Individuals working in the military as a public health officer are paid according to the schedule established for those commissioned officers, and is highly dependent on rank within the service, as well as education, training and experience. There is a pay calculator at the U.S. Public Health Service Commissioned Corps webpage, and can be accessed by the following link, www.usphs.gov/questionsanswers/compensation.aspx.
Further details about salaries within these positions is available within the Occupational Outlook Handbook on the U.S. Bureau of Labor Statistics webpage. It demonstrates the way that military salaries are calculated, and thus is very hard to compare with traditional employment in industry.
In addition to these salaries, military individuals also are able to retire after 20 years in the service, which provides them with retirement packages, while still being young enough to enter the workforce outside of military service and have plenty of life left to pursue other careers.
Public Health Officer Job Requirements
For the military public health officer positions, the requirements are also defined in more military terms. The reality is that military positions are becoming more and more complex with the increased technologies that are now part of every aspect of military operations. With these more advanced, technical positions, education and experience will continue to play an increasing role in the requirements of new recruits. The positions of public health officers are no different. These will require college degrees of its people.
Public Health Officer Jobs
YouTube Special Feature
Peace Corps Fellows/USA Program is a program that offers financial benefits to returned Peace Corps Volunteers who want to earn a masters degree, a doctoral degree, or professional certification. Peace Corps Fellows use the skills they developed working abroad to complete internships in underserved U.S. communities while gaining both academic credit and valuable on-the-job experience. The Fellows/USA program is offered at more than 50 universities across the country and works in partnership with community organizations.
Army – Within the Army is an Institute of Public Health. This department is charged with the responsibility of assessing the status of military personnel and determining changes necessary for improvement. When under certain missions or challenges, the decision may be made that additional training, vaccinations, equipment, etc. may be helpful.
The various divisions within this department include:
Environmental Health Engineering
Epidemiology & Disease Surveillance
Health Promotion & Wellness
Health Risk Management
Laboratory Sciences
Occupational & Environmental Medicine
Occupational Health Sciences
Toxicology
Veterinary Services
Navy – The mission within the Navy's public health officer is linked to the conditions that the military personnel often find themselves. The environmental conditions that exist in submarines can create many unique opportunities for challenges to the people confined there. Within these environmental health responsibilities are:
Health-Threat Assessments
Food Service Sanitation
Drinking Water Surveillance
Disease Outbreak Investigations
Combat Threats of Bioterrorism
Air Force – These personnel are directed to create systems that protect Air Force members from any kinds of communicable diseases, whether stationed in the United States or elsewhere around the globe. Constant monitoring of conditions and potential threats is required to maintain the health of all personnel.
Duties while participating in this position will consist of communicating and informing of:
Disease Trends
Food Safety Practices
Sanitation and Contamination Control Programs
Advising on Public Health Issues
Preventative Medicine
U.S. Public Health Service Commissioned Corps – These workers are positioned in public health services in underserved communities in both the United States and elsewhere in the world. These people work within the U.S. Department of Health and Human Services as well as other agencies. Other agencies include:
Department of the Interior National Park Service
Health Resources and Services Administration
Centers for Disease Control and Prevention
Indian Health Services
Office of the Secretary
National Institutes of Health
United States Department of Agriculture
According to the website, this department is not accepting new applications for these positions due to a flood of applicants that have been received in recent years. This note was effective May of 2012, and mentions that it stands until further notice.

<!- mfunc search_btn -> <!- /mfunc search_btn ->

The field of public health officers is expanding and becomes more sophisticated and technical, requiring applicants for these positions to be more experienced and educated. Even the positions that exist within the military require college degrees. For those people interested in entering this field outside of the military, many of these positions require bachelor's degrees at the minimum, with many of them requiring master and doctorate degrees.

Sources