<!- mfunc feat_school ->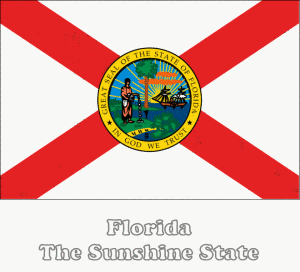 Florida is home to many fine colleges and universities for public health. As a state known for having a high number of elderly residents, it is also a state where health and wellness play a bigger role than in many areas. The MPH field is growing significantly and creating a demand for more professionals in Florida. MPH degree programs are designed to set people up for those careers.
The recommended public health universities in Florida are:
University of Florida Master's in Public Health Program
The University of Florida has been a mainstay in higher education in the state for decades. This university promotes active learning and leadership among its students, as well as boasting state-of-the-art facilities and programs that are designed to prepare students for careers from day one. The school was established in the current location in 1906, and since has been a major land-grant, research, and public comprehensive university.

YouTube Special Feature

Master's in Public Health

The Master's in Public Health students at UF are required to take 48 credit hours of study, unless they have previous credits to bring to the program. These courses include a special project, a seminar, and classes in epidemiology, biostatistics, public health, administration, and other relevant core courses depending on the chosen area of concentration.

Contact Information
Address: University of Florida Academic Health Center, Box 100182, Gainesville, FL 32610
Phone: 866-62-UFMPH
Website: http://mph.ufl.edu
<!- mfunc search_btn ->

<!- /mfunc search_btn ->
University of West Florida Master's in Public Health Program
The University of West Florida is located on the Emerald Coast, where it has been since 1963. It has a long history with its professional studies school, but also offers traditional arts, sciences, and business education. The small size of this college is usually what attracts students, giving them a chance to get a hands-on education that is better than larger schools might have to provide. The mission is to empower students with knowledge and the skills to contribute to the complex world that we live in today.
Master's in Public Health
The University of West Florida requires students to take at least 12 semester hours per year to complete this program. The courses required take less than 2 years for full-time students and include all of the basic classes that you would expect like epidemiology, biostatistics, public health, behavioral and social science, and administration. Students must also be involved in an internship experience that counts for 6 semester hours of practical skills. Culmination of the program includes a closed-book exam, as well as completion of all courses and the internship program.
Contact Information
Address: University of West Florida, School of Allied Health and Life Sciences, 11000 University Parkway, Pensacola, FL 32514
Phone: 850-473-7226
Website: http://uwf.edu/sahls/masters-ph/
USF Master's in Public Health Program
The USF system, as it is known, includes a collection of institutions that are accredited to provide education to students throughout the southern part of the state. This school operates under a Board of Trustees structure and gives students the tools that they need for hands-on education that leads to rewarding careers. The school is committed to providing students with an interactive learning experience, high-tech, innovative tools and resources, and so much more. When you come to USF, you'll get an education that you can count on.
Master's in Public Health
The MPH students who are accepted into USF are required to complete health policy and management courses, social and behavioral sciences, epidemiology, biostatistics, specialty concentrations, a comprehensive exam, a Capstone course and project, and field experience in order to complete the program successfully. The exact courses vary depending on the area of specialization.
Contact Information
Address: University of South Florida, 4202 E. Fowler Ave., Tampa, FL 33620
Phone: 813-974-2011
Website: http://health.usf.edu/publichealth/index.htm
MPH Scholarships and Fellowships
The costs of graduate school always are a concern, but there are many scholarships and fellowships available to MPH students in Florida.
Florida Public Health Internships
Many students who are interested in public health need more work experience in the field to qualify for graduate school. You also will likely need to complete an internship or practicum to graduate from your MPH program. By completing one of these internships, you will gain real-world public health experience to help you in your career.
MPH Degree Salary in Florida
Public health worker salaries in Florida continue to grow, even as unemployment in the state is still elevated in many industries. Indeed.com reports that the average public health salary in the state is $59,000.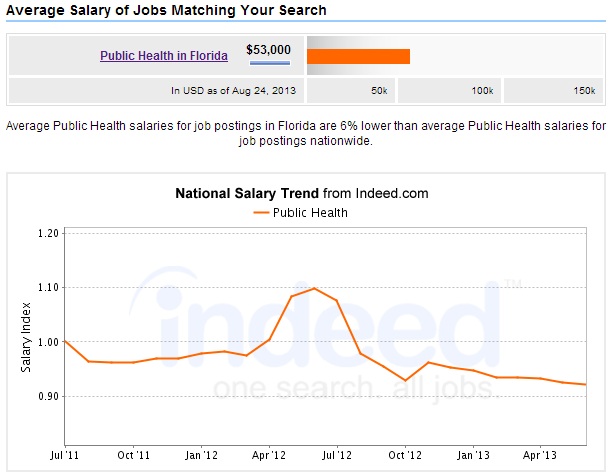 Related MPH Jobs in Florida
Please review the average salaries for many public health jobs in the state of Florida. It is clear that this state, with its aging population, has a strong need for public health workers, as the salaries for many public health jobs here are quite high. You can expect, with your MPH degree, that you will tend to earn towards the top of the pay scale for many positions, especially after a few years on the job.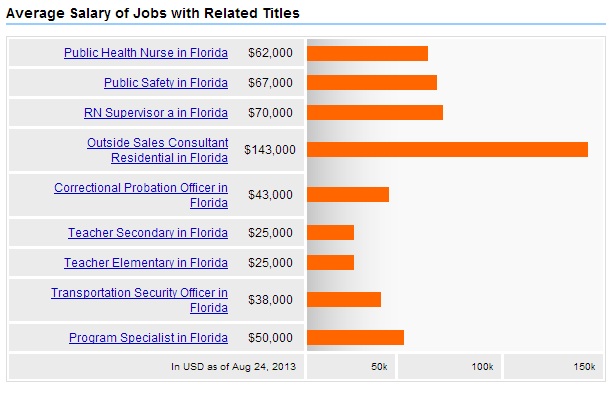 <!- mfunc search_btn -> <!- /mfunc search_btn ->
Florida Career Opportunities for MPH Grads
A public health career in Florida offers many possibilities. This is largely due to the fact that the population of Florida continues to grow and to get older. This means that there will be plenty of public health jobs in the future in this state.
Nationally, public health is one of the hottest fields of work today, with a 20% or more increase in many public health jobs by 2020.  The increase in incidence of chronic diseases, such as diabetes and heart disease, has forced most healthcare agencies to conduct health education and preventive care programs. With a MPH degree, you will gain the knowledge and expertise to design, develop and administer such programs. The state of Florida provides many opportunities to public health graduates. 15 great places to work in Florida with an MPH degree include:
Florida Public Health Research and Community Centers
Given the aging and growing population of this state, Florida has many public health research centers that can help you to pursue your public health career. In particular, the University of South Florida is a strong proponent of public health research, and has many research centers that are worth exploring.