<!- mfunc feat_school ->

Chances are, back in 2001, you first heard about the attacks on the World Trade Center either from a TV news anchor or from someone else who was watching TV and called you. I was at work, and we all left our desks to gather in the break room and watch the coverage on the news.

Today, things are a little different. Police departments are using social media to keep the public informed. I heard about the Boston Marathon bombing through Facebook. I monitored Facebook more closely than usual that day, anxious to be informed of any updates. It didn't even occur to me until a few hours later to turn on the television and see what they were saying. I had already watched video footage of the explosions online.

Shortly after the bombing, the Boston Police Department made a long post on their official Facebook account outlining the situation and giving instructions to residents and visitors, including phone numbers to call for assistance or to provide tips. The department has continued to make regular updates on both Facebook and Twitter since, keeping the public informed and asking for information about the suspect's whereabouts during the manhunt.

The Department was able to act quickly to disseminate details of the crime to the public because using social media in this manner was already second nature. Their Twitter and Facebook accounts were already established and well-used prior to the attack.
<!- mfunc search_btn ->

<!- /mfunc search_btn ->
Here is a graph showing the number of updates posted on both Facebook and Twitter from April 10th to the 22nd: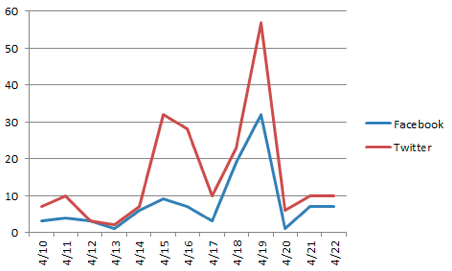 The number of updates peaked twice: once on the day of the bombings and once four days later during the manhunt. Since the 15th, the Boston Police Department has gained approximately 70,000 followers on Facebook and 275,000 on Twitter. This would never have happened if they had not already been in the habit of using these platforms to inform the public. If you doubt that, take a look at their YouTube channel. The Department has not posted a new video in two years, and they gained less than 1,000 new subscribers in the aftermath of the attacks. If this channel had been in active use prior to the attacks, it would have been natural to put information out through this channel as well.
It is important that police departments are able to communicate information to the public in a timely manner, not just in case of a terrorist attack, but in any type of public emergency. The police are first responders in all sorts of situations, and are frequently the first to know about hazards that people need to be made aware of. Not only do they deal with criminals and maintain order, but they help protect our public health by keeping people away from dangerous situations such as chemical spills.
Mayor Tom Menino: "I am so proud of all our first repsonders. Thanks to them – the people of Boston will sleep well tonight."

— Boston Police Dept. (@Boston_Police) April 20, 2013
To find out which police departments are best prepared to get the word out quickly via social media when the need arises, the staff at MPHProgramsList.com, evaluated the social media presence of all the police departments in the 100 largest cities in the US by population. Here are the top 50, ranked from best to good. There were 100 points possible: 30 for Facebook, 30 for Twitter, 20 for YouTube, and 20 for other. The "other" category consists of special platforms set up for use by police and other public service organizations. The most popular of these platforms is Nixle.com, which is used by 53% of the police departments we considered.

If you are affiliated with one of the police departments on this list, feel free to use the Top 50 Badge on your department's website or social media accounts.

Here are the top 50 social media friendly police departments in America's 100 largest cities:

<!- mfunc search_btn ->

<!- /mfunc search_btn ->
Social media has changed our lives in ways we never would have imagined ten years ago. For many people, it is not just a place to connect with friends, but a place to get news about everything that matters to us, from pressing current events to tantalizing new recipes and helpful gardening tips. If you're not already following your state, county, and local police departments, take the time to look them up now while you're still thinking about it.

Note: If you notice an error in the stats we used to compile these rankings, please let us know.