<!- mfunc feat_school ->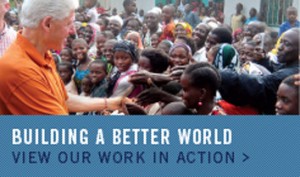 There are plenty of internship opportunities available for public health students, and they all have their pros and cons. Here are thirteen reasons to consider the Clinton Foundation for your public health internship.
"WHAT REALLY SEPARATES A CLINTON FOUNDATION INTERNSHIP FROM ANY OTHER IS THE OPPORTUNITY TO USE YOUR SKILLS AND INTELLECT TO MAKE A REAL DIFFERENCE IN THE DAY-TO-DAY LIVES OF THE MILLIONS OF GLOBAL CITIZENS THAT ARE TOUCHED BY THE FOUNDATION'S PROGRAMS EVERY YEAR." – ROB CORRADI, CORRESPONDENCE INTERN, SPRING 2008
You'll have the opportunity to make a real difference in the world. The Clinton Foundation works on big projects that have a huge impact on the entire world. You'll be helping to fight climate change, give people in third-world countries access to healthcare, and end the childhood obesity epidemic in the United States.
You'll get hands-on experience. What better way to learn that by doing? While working as an intern with the Clinton Foundation, you'll be actively involved in finding solutions to the world's biggest public health issues.
You'll have plenty of opportunities for community service work. You'll have plenty of opportunities to help out in the community, working to improve the health and overall quality of life for those around you.
You'll be involved in helping the foundation reach its goals.  The Clinton Foundation's mission is to improve the health of people all over the world, protect the environment, and help create stronger economies.
You'll get to participate in a variety of activities.  In the past, interns have been treated to Broadway shows, taken part in guided tours of organizations such as the Ralph Lauren Center for Cancer Care and Prevention, and even attended sporting events with staff members.
<!- mfunc search_btn -> <!- /mfunc search_btn ->
You'll grow both personally and professionally. Being involved with a large, non-profit organization that impacts the lives of millions of people around the world allows you to gain a different perspective that will help you achieve growth in both your personal life and your career.
You may have the opportunity to experience life in a different part of the country. There are two locations that use interns: New York and Little Rock. Whether you're from a small town or a big city, there's a good chance that you'll find yourself immersed in a different sort of culture than what you're used to back home.
You'll be able to hear important officials and leaders speak. The Clinton Foundation's lecture series gives you access to talks by government officials, business leaders, and journalists.
You might get a chance to work with the global health team. One of the internship opportunities available at the Clinton Foundation is the chance to work with the global health team, where you'll have an active role in developing solutions to problems such as infectious disease and working on health-related projects being conducted in disaster areas.
You could be involved in helping children lead healthier lives. The Alliance for a Healthier Generation focuses on the health of children, focusing on ending childhood obesity by encouraging the consumption of healthy foods and participation in physical activity.
You could have an impact on the health of children in Mexico and South America. If you end up working with the Clinton Giustra Sustainable Growth Initiative, you'll be helping kids in Mexico, Peru, and Columbia get the nutrition they need to live an active and healthy life.
You could help create jobs in Haiti. A country's financial well-being affects everything, including the health of its citizens. You could work with the Haiti Development Fund to help improve lives by creating employment opportunities for workers in Haiti.
You could help homeless people in Haiti. The Clinton Foundation Haiti Team works to provide emergency shelters for displaced citizens and fight outbreaks of infectious diseases.
<!- mfunc search_btn ->

<!- /mfunc search_btn ->
By choosing the Clinton Foundation as your destination when it's time for your public health internship, you'll open up a wide range of opportunities to make a positive impact on the world while gaining experience working for a nonprofit foundation. More details about the Internship at the Clinton Foundation(PDF Brochure).