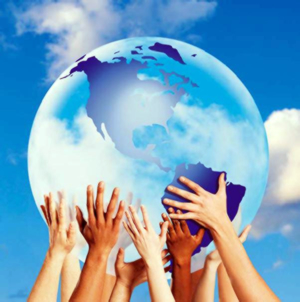 Getting your master's degree in social work is a wise move so that you can get into better-paying positions in government agencies and other social service centers, and also obtain more responsibility. The good news is that more universities are now offering online master's degrees in social work. So it is more possible for you to get your master's degree while you continue to work full time. The best online master's programs for social work are listed below.

Featured Online School Offerings
#12 Liberty University
If you are interested in bettering the lives of other people, think about an online Master of Arts in Human Services, which is comparable to a Master's Degree in Social Work. At Liberty University, you will have the chance to affect the lives of others in a positive way by working in human services. This program will teach you how to apply insight, that you will gain through the study of human behavior, in the workplace so that you can better affect both the culture and well being of those who need help. This is a fully accredited program and it will prepare you for upper management positions in many agencies that focus on social service and welfare. Visit
#13 University of Southern California
The online MSW program here has the same curriculum and rigor that you will find in the fully on campus program. The curriculum in your first year will give you the body of knowledge, values and skills that you will need to become successful in the field of social work. The second part of the curriculum will provide you with the advanced training in several different concentration areas that will help you to develop the skills that you seek in one of these areas: families and children, community organization, planning and administration, mental health, or military social work.
#14 Our Lady of the Lake University
This online MSW is provided by the highly regarded Worden School of Social Service, and it prepares you to change the lives of the most needy children and families, while also building a strong foundation for your career in the social services. No matter if you already are working in social work, or are just interested in joining the field, this advanced degree can help you to achieve your career goals and to help society and to fight for social justice. This program is quite unique in that it is one of the few that focuses its courses on serving Hispanic children and their families. Visit
#15 Fordham University
This fine online MSW program is ranked #11 currently by US News and World Report in the field of social work. This school has been working on the behalf of human rights and social justice for 100 years. Also, the site TheBestSchools.org has ranked this online MSW #1 in the country for online programs. You should note that entry into this program is limited to people who live in NY, NJ and CT and are at least 50 miles from any Fordham campus. The faculty in this online program is renowned, and engages in some of the most rigorous research in the social work field. Visit
#16 California State University – East Bay
This three year, part time, online MSW is designed for professionals who currently are working in human services. This program is accredited by the Council on Social Work, and is designed to train those who want to attain a leadership position, or a direct practice position. You will see that this advanced degree program has a multicultural focus that will prepare you to work with public agencies and nonprofits. You also will learn how to best work with highly diverse populations in both urban and suburban communities. Visit
#17 Boston University
The online Master of Social Work program will provide you with the exciting opportunity to earn a master's degree in social work from a top American university, which has one of the largest private research organizations in the country. This program will offer you a concentration in clinical social work practice. It is designed to help you expand your skills and knowledge, to advance in a professional capacity, and to eventually become eligible for licensure. You will take both the required and elective courses online, and you will also need to complete one or two field internships near your place of residence. Visit
#18 Capella University
If you are interested in earning both your MSW and your doctorate at the same time, consider an online advanced degree in social work from Capella University. You will have the chance to learn from faculty who have set the national standards in the social work field. You will learn the skills that you need to prosper as a teacher, administrator, case work supervisor or a scholar in the rapidly growing field of social work. Your curriculum will be based around national social work guidelines in education, and will be focused intensely on critical thinking, action research and the incorporation of theoretical knowledge and practical experience. Visit
#19 University of Missouri
Are you interested in a career change that involves social work? A Master of Social Work degree from the University of Missouri could be for you. This program offers you a master's degree that you can earn partially online. You will need to report to campus a few times per year for mandatory campus meetings. In this online program, you can choose to focus on policy, planning and administration, or clinical practice. This program is fully accredited in the Midwest and it has some of the best faculty in the social work field. Visit
#20 Virginia Commonwealth University
This Master's Degree in Social Work is ranked #11 among the top social work programs in the US. In this fully accredited program, you will be able to learn the same curriculum as what is provided in the campus-based program. You will be able to boost your career with some of the best social work education and faculty in the country. You will have the opportunity to complete an internship in some of the best agencies and organizations in the state of Virginia. Visit
#21 University of Louisville
You may earn your Master of Science of Social Work from the Kent School of Social work in this fully online program. This program is made for professionals who have NOT yet gotten a degree in social work of any kind. The highly respected faculty here has many years of experience and will provide you with the highest quality education in social work in a fully web-based program. The school is accredited by the Council on Social Work Education, and is ranked as one of the best social work schools by US News and World Report. Visit
#22 St. Leo University
You can earn your Master of Social Work in Advanced Clinical Practice at this accredited program that is taught fully online. You will gain the essential knowledge and skills that you need to promote economic and social justice. You also will become skilled in advancing human rights all around the country and globe. Also, you will be able to assess, engage and intervene with individuals, families and groups in an effective manner. You will prepped to be a leader in advanced clinical social work. You will be particularly skilled in working with the elderly, the military and anyone who experiences discrimination. Visit
#23 Michigan State University
The Master of Social Work program here is fully accredited by the Council on Social Work Education. In this online program, you can choose a concentration in Clinical Social Work, or Organization and Community Leadership. You will take classes in human behavior in the social environment, social welfare services, research methods, administration, practice methods, field education and many special topics. Visit
#24 Texas State University San Marcos
The Master of Social Work program at Texas State University is a strong opportunity if you are a professional who wants to improve our society. You will spend half of your time in online instruction, and half in the field, where you are going to work in agencies under close supervision. The graduates from this program do well on all state licensing tests, and most graduates attain very rewarding and interesting leadership and upper level management positions in social work. This program is fully online and you will finish it in two years. Visit